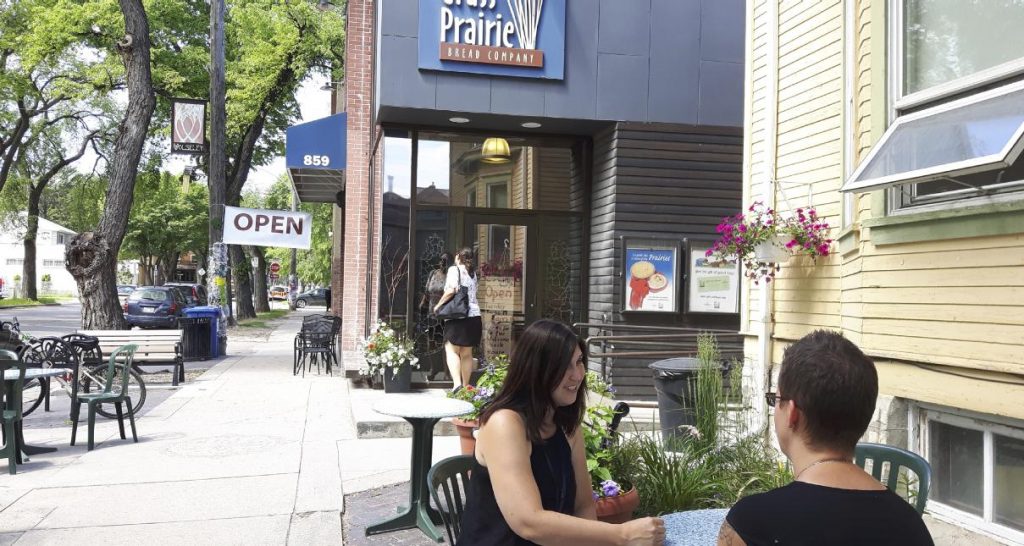 Tall Grass in Wolseley
Tall Grass Prairie Bread Company is grateful for the love and loyalty that its Wolseley and Winnipeg customers pour into this neighbourhood bakery. Back in 1990, the local community opened its arms to Tall Grass, coming in droves to buy bread and cinnamon buns. Within months of opening, our staff tripled, along with our production of bread.
More than 30 years later Tall Grass customers continue to savour wholesome bread, or indulge in the sweet treats tempting them from behind the counter. We also carry a range of Grass Roots Prairie Kitchen's wonderful creations – jams, salsas, pickles, along with wholesome meals to heat and eat at home.
On lovely spring, summer and fall days, Wolseley customers can enjoy our baking and a coffee on our sidewalk patio tables and chairs. This Winnipeg gem also has a little Tall Grass Prairie garden. Most years it attracts neighbourhood butterflies, particularly the Monarchs!
Tall Grass Prairie Bread Company – Wolseley location 859 Westminster Avenue, Winnipeg MB (map) Bakery 204-783-5097 | Office 204-779-4082 | Facsimile 204-779-4002 Email: wolseley@tallgrassbakery.ca
Please see the Tall Grass Home page for the most updated bakery hours. Also check out the details of our pickup and delivery service on that same page, for a variety of baked goods and other items, available at this time. Hours: Mondays – Fridays: 7 AM-6 PM; Saturdays: 7 AM-5 PM; Sundays and holidays closed
PAYMENT
We offer the convenience of several payment options at all our locations: