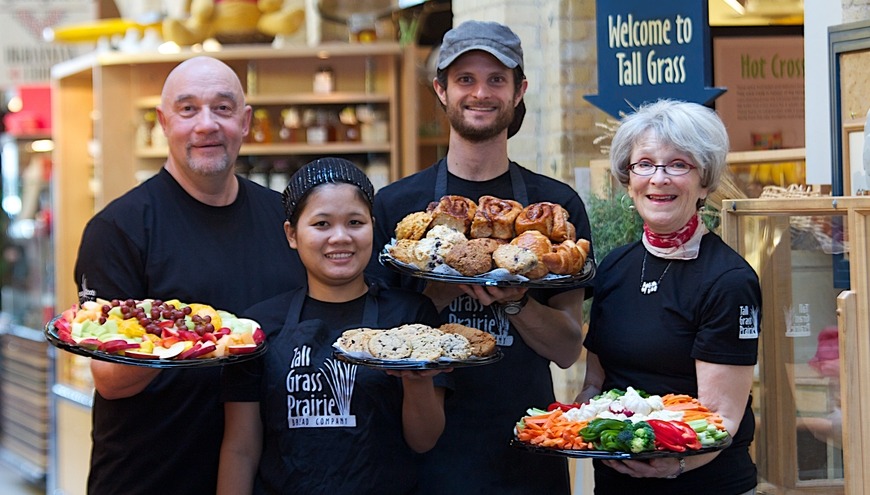 About delicious food for your event!
We are what we cater
During the COVID situation
Tall Grass is doing pickup & delivery
Tuesday – Saturdays 3:30 – 5:30
Call or email by 1 pm for next day orders
204-779-4082
wolseley@tallgrassbakery.ca
for complete details please see the HOME page
Since opening its doors, Tall Grass Prairie Bread Company has built its reputation on local, organic and baking from scratch.
Tall Grass catering is focused upon baked goods for morning meetings and snacks for anywhere from 30 to 3,000 people. We are committed to local organic grain, fresh on-site milling, high quality baking, and natural whole food!
At Tall Grass we use organic Red Fife, a primary source of flour in our baking. Naturally nutty-flavoured and exceptionally delicious, Red Fife was the first wheat to be successfully grown on the Canadian prairies. It joins Spelt, another special ancient grain we use at Tall Grass. Spelt features a low-glycemic index and is also often tolerated by people with gluten sensitivity.
Good food is important to a successful event! And we respect your individual needs when developing your wholesome catering order. Call us at 204-947-1297 to work out the details of a delightful arrangement to meet your specific needs. Whole grains. Whole food. Wholesome!
If you are going into a meeting to decide on your catering selections, simply print out our two page catering menu (pdf) for a concise hard copy overview.
Tall Grass Catering – The Forks Market
1 Forks Market Road, Winnipeg MB (map)
Catering orders 204-947-1297 | Fax 204-943-2818
Email: theforks@tallgrassbakery.ca
After the COVID-19 restrictions are lifted, we will return to our usual hours below. Please check out the details of our pickup and delivery service on our Home page, for a variety of baked goods and other items, available at this time.
Call Mona, Monday – Friday: 10:30 AM-3:00 PM
Please note: Tall Grass catering takes a break from about the middle of December through the second week of January for the holiday season, and again during July and August.
payment
Taxes are not included in pricing listed here. Prices are subject to change without notice. All catering is GST and PST taxable. Invoicing is available by pre-arrangement.
We offer several payment options at all our locations.