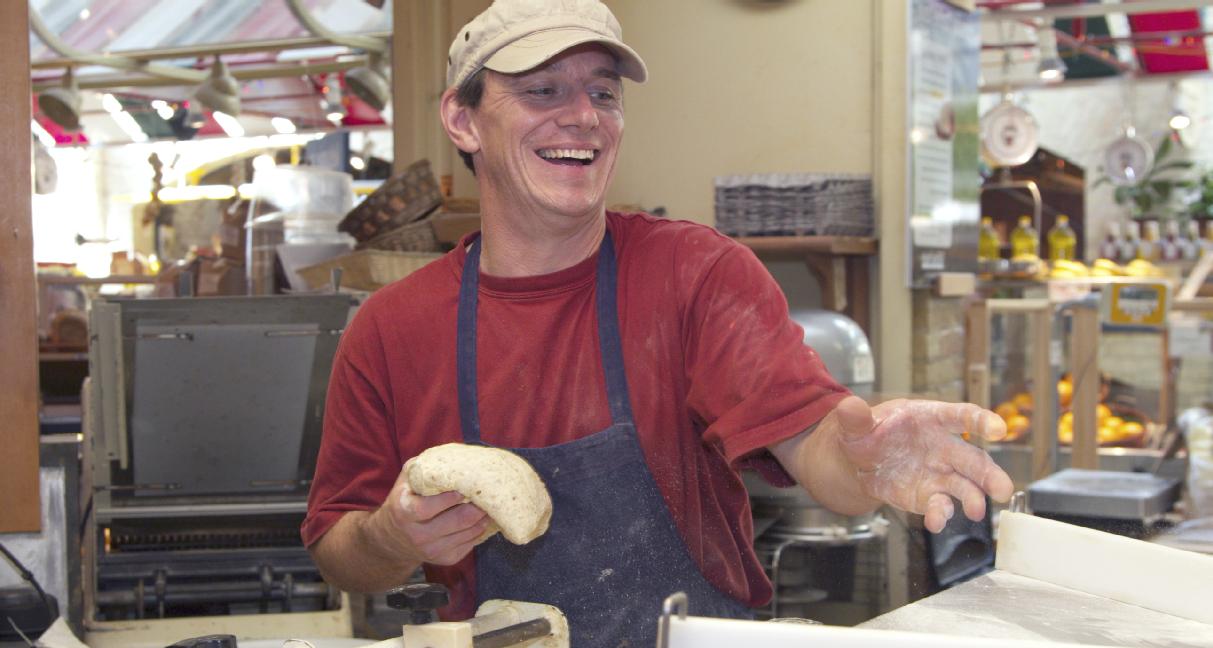 Tall Grass in The Forks
In addition to our original Wolseley neighbourhood bakery, Tall Grass Prairie Bread Company is also situated at
The Forks
, a traditional meeting place for thousands of years. In this historic area at the junction of the Red and Assiniboine Rivers, Indigenous peoples met, traded and celebrated.
We were invited to open our bakery at The Forks Market back in 2002. To us, the philosophy of Tall Grass was a perfect fit with the goals of this Market. It is our privilege to bring time-honoured milling of fresh organic local flour and baking from scratch to all Winnipeggers and visitors. Today, customers come and enjoy our selection of baked goods or stop by and delight in a deli soup, sandwich, salad, or sweet treat. Want to see or be seen, find a seat in the newly renovated Common Forks Market Food Hall, or for some place quieter – try the north or south aisles. All of these spots are located near our bakery, so come and enjoy a cup of organic coffee and a sweet treat with a friend. And always remember to take home something special for the family. Access to the bakery is from inside the historic Forks Market, a converted brick stable for the Grand Trunk Pacific Railway and Great Northern
Railway horses.
Tall Grass Prairie Bread Company – The Forks Market location
1 Forks Market Road, Winnipeg MB (
map
) Bakery
204-957-5097
| Catering 204-947-1297 | Office 204-947-1297 Facsimile 204-943-2818 Email:
theforks@tallgrassbakery.ca
Please see the
Tall Grass Home page
for the most updated bakery hours. Also check out the details of our
pickup and delivery service
on that same page, for a variety of baked goods and other items, available at this time. Hours: OPEN every day, 7 days a week Mondays – Sundays: 7 AM – 7 PM; We are open
most
holidays except: Remembrance Day (November 11) & Christmas Day (December 25).
payment
We offer the convenience of several payment options at all our locations: