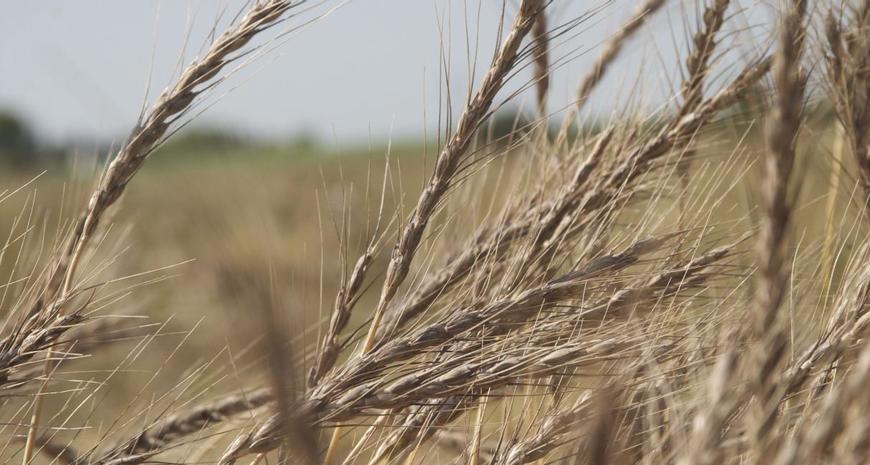 Spelt
The ancient grain known as Spelt has been in cultivation since 9,000 BC. Today it is grown in Manitoba as well as many parts of the world, and is widely recognized for its health benefits. Spelt requires special processing. It is a hardier and a more nutritious parent to modern wheat varieties.
This versatile grain has a sweet, nutty flavour. Tall Grass Prairie Bread Company has been using Manitoba organic Spelt since 2004, making a number of tasty baked goods – including delicious Spelt bread, Spelt sourdough bread, pita pockets and Three seed Spelt crackers. We also bake a variety of yummy sweets including Spelt fruit squares and Spelt date squares, Morning Glory muffins and Spelt ginger snap cookies.
Spelt originated in Mesopotamia and was one of the earliest domesticated grains. It helped lead to the development of permament settlements. Spelt was used extensively by the Greeks, who took the grain with them as they sailed and explored the known world. They taught the peoples of the Mediterranean how to use, cultivate, and honour this grain.
Since the 1980s, there has been a dramatic resurgence in the general popularity of this flavourful grain which still retains its original characteristics. Now a specialty crop, it is seen as a wheat substitute with high nutritional value and many benefits. Because of these properties, it is highly regarded by organic farmers and health food shoppers.
Spelt flour has a high water solubility, meaning that it can be easily digested. Its nutrients are transported through the bloodstream and readily absorbed by body cells. It is often tolerated by people with gluten sensitivity. Spelt has a low glycemic index which helps maintain stable blood sugar levels.
Spelt contains all eight essential amino acids which are the building blocks of muscle tissue, and is high in soluble and insoluble fibre which is shown to lower the LDL cholesterol. It is high in B complex vitamins, and is also a very good source of magnesium and zinc.
OUR SPELT FARMERS
Pollock Farms has 300 working acres near Brandon, Manitoba, which Pat Pollock notes is probably one of the smallest farms in the area. Everything they produce is certified organic. They have been supplying Tall Grass Prairie Bread Company with organic Spelt since 2004.
Larry and Pat Pollock got into organic farming for two reasons – to improve the health of a farm they had purchased, that had been farmed continuously without a break or good rotation. They also saw organics as a way to improve the economics of the farm which previously saw them spending fully three quarters of monies coming in on the input costs of fertilizer, spray and seed.
Pat recalls that Larry used to come in from the field, shaking his head saying, "There's got to be a better way, there's got to be a better way."
Around that time, Larry picked up a booklet called Improving the Soil with Legumes. The Pollocks started sowing alfalfa to rejuvenate that piece of overworked farm land, and together they began going to organic meetings.
Pat explains, "Organics made a lot of sense, and so we started the transition." Getting into this approach to farming had a pretty steep learning curve.
"We went to meetings, got the ground ready for new crops, planted alfalfa, joined the Organic Crop Improvement Association (OCIA) – an organic certifying body, and had our first inspection in the summer of 1999. Our first fields were certified in 2000, and by 2004 everything that we produced on the farm was certified."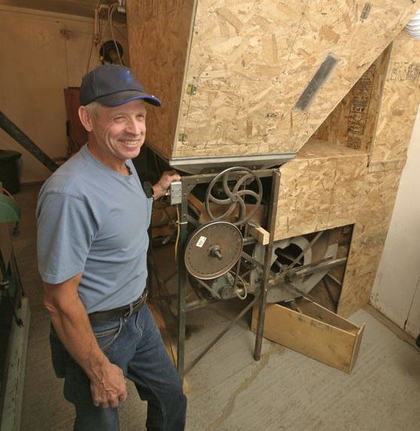 The Pollocks were with OCIA from 1999 – 2013. Pollock Farm has been with Ecocert Canada since 2014.
It takes a minimum of three years with no synthetic input, prior to a first harvest for a field to be considered for organic certification.
Today the Pollocks have evolved from learning to teaching. Pat sits on the Manitoba Organic Alliance board. She and Larry do speaking engagements for Manitoba Agriculture, Manitoba Ag Days, as well as organic and Spelt related conferences and workshops.
"We found our niche with organic Spelt. We are very open to sharing and mentoring. We are willing to talk about what works, and what doesn't," says Pat, "It's our livelihood."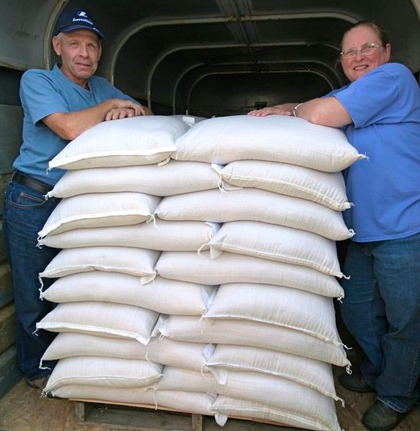 You can't get Spelt processed just anywhere. Their farm includes specially-modified machinery to effectively handle the grain from the field, store, clean, and process it, ready for Tall Grass. Good quality Spelt is generally achieved through an aging process. The Pollocks typically aim to store it for two or more years.
Bulging sacks of Spelt are delivered to our bakeries and milled into fresh flour, ready for baking. This maintains a cycle honoured by many generations around the world for thousands of years.