Tall Grass Prairie Bread Company

Welcome to Tall Grass!
Tall Grass Prairie Bread Company and Grass Roots Prairie Kitchen acknowledge that we are located on the ancestral lands of the Anishinaabeg, Dakota, and Ininiwak. We would also like to acknowledge the other First Nations such as the Anish-Ininiwak, Dene, and Nehethowuk, who gathered at this ancient site sharing these lands and waterways. We acknowledge that we are on the homeland of the Métis and are grateful to the First Nations of Treaty One who agreed to share this beautiful prairie land giving us the opportunity to cook and bake for you.
We opened Tall Grass Prairie Bread Company in Winnipeg's Wolseley neighbourhood in 1990. The foundation of Tall Grass has always been based on baking with heritage varieties of organic wheat, grown by Manitoba farmers, milling our own flour and baking from scratch.
More than 30 years later, there are two Tall Grass bakery locations: one in Wolseley and the other at The Forks Market, along with Grass Roots Prairie Kitchen. We use Red Fife wheat in our bakery, a tasty, nutty ancient variety. It joined Spelt, another ancient grain, known for its low glycemic index and lower gluten content. As bakers in the land where we live and work, we consider it an honour to bake with these two ancient grains.
[WINNIPEG, December 7, 2022]
Pre-Paid pickup and delivery orders
We welcome you to our bakeries for in-person shopping, and also continue to offer pre-paid and delivery service at both our locations. Choose your most convenient bakery below!
–– your friends at Tall Grass and Grass Roots
Whenever possible we are using electric, hybrid-electric, hybrid-propane and vegetable oil powered vehicles and also a small 4-cylinder gasoline van with a large load capacity in order to meet our own standards for environmental integrity and your need for great bread!
In-person shopping at our bakeries
In the Wolseley bakery this means:
4 people in the bakery at a time
people waiting to come into the bakery should stand behind the black line, socially distanced apart
At Tall Grass bakery in The Forks Market this means:
counter service
people are asked to stand socially distanced apart, waiting to be served
Our baked goods also available here
WOLSELEY ITEMS
Cafes
Shops
Foodfare (905 Portage Avenue)
All Vita Health stores:

Osborne Village
Tuxedo Park
Linden Ridge
St. Vital Square
Westwood
Garden City
Kildonan Crossing

Good N Natural (Steinbach)
Fresh Option Organic Delivery
Country Roots Market and Garden (seasonal)
FORKS ITEMS
Cafes
Little Sister (River Avenue)
Little Sister (Osborne Street)
Modern Coffee
Mas Coffee (Saturday & Monday)
A-OK Cafe   Aritzia (Polo Park Shopping Centre)
Springs Church
Restaurants
Marion Street Eatery
Simon's Cuisine
Shops
Fromagerie Bothwell
Jardins St-Leon Gardens (seasonal)
Ten breads or more - 10% off
When you purchase 10 breads or more, you will receive a 10% discount on those items. This applies to purchases of multiple loaves of one type or many types. It's up to you to decide! The offer is available in the bakeries and for pre-paid orders. To assure that your choices will be available, call two days ahead so we can prepare your order. Tall Grass in Wolseley 204-783-5097 or Tall Grass at The Forks 204-957-5097. This offer does not apply to other baked goods.
Catering - Delightful and Delicious
Enjoy a variety of our baked goods and other items with Tall Grass Catering. Call Mona to discuss your order, 204-947-1297 Monday to Friday: 10:30 AM to 3:00 PM.
---
During this time of necessary adjustments for all of us, our first priority is maintaining the safety of our customers
and staff. You are welcome to call us with your suggestions and questions. Tabitha Langel, one of our co-owners, may be reached on her cell phone at 204-470-8570. She will gladly talk to you. Let's take care of each other and rise to the occasion with courage.
– from all of us at Tall Grass Bakery
---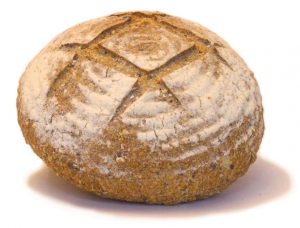 We thank you for your amazing support during the past three years, as we continue to respond, finding new ways to adapt to the shifts and changes. There has been something profoundly communal and transformative in each encounter with you, our customers. The degree of kindness, gentleness, and loyalty in these difficult times has been truly extraordinary. For this, we are very grateful, and we thank you. Our goal is to find ways to bake and make available your favorite items within these changing parameters.
Tall Grass and Grass Roots continue to be all about local, organic, fresh-milled, and made from scratch whole food.
---
Tall Grass updates and news
---
TASTY CHRISTMAS TREATS - SAVOURY AND SWEET
place your order now
Tall Grass Prairie Bread Company and Grass Roots Prairie Kitchen have it all! Our seasonal specials and regular favourites to share at your gatherings with family, friends and colleagues.
Make your Christmas and Holiday orders now by calling, or in person to ensure your favourites are ready for you, when you would like to enjoy and share them:
Tall Grass in Wolseley
859 Westminster Avenue • 204-783-5097
OPEN Mondays through Fridays 7 AM - 6 PM
Saturdays 7 AM - 5 PM
CLOSED Sundays and all Holidays
Tall Grass at The Forks
The Forks Market • 204-957-5097
OPEN Daily 7 AM - 7 PM
CLOSED Christmas Day, December 25
Grass Roots at The Forks
The Forks Market • 204-942-5097
OPEN Daily 10 AM - 6 pm
CLOSED Christmas Day, December 25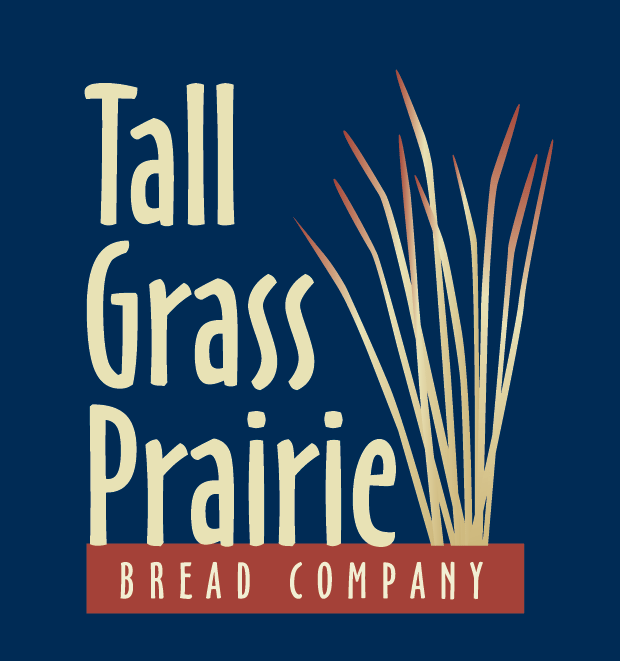 Vinarterta
We thank the Icelandic community for this delicious treat. To Carri and Signi and their Amma (Grandma), we are especially grateful for the gentle teaching of their time-honoured method. Available with or without icing.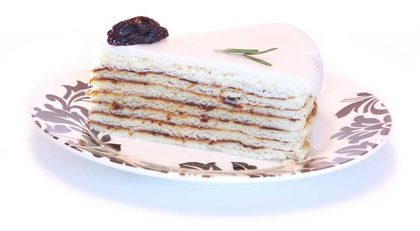 Tall Grass Fruit Cake
Fruit and nut laden – we follow all the best traditions with this recipe. The fruit is aged in rum or brandy and fresh cider before being careful baked. And, yes, we do wrap it in cheese cloth!
Christopomo Bread
An ancient bread from the Greek Orthodox heritage, rich in butter, eggs, honey, and anise. Decorated with almonds
Special Seasonal Cookies
Mocha Kisses: A delightful blend of butter, chocolate, coffee and sugar.
Hazelnut Chocolate Dreams: Indulge yourself and your guests in this rich buttery hazelnut cookie dipped in chocolate
Florentines: It's wonderful what you can make with chocolate, candied orange peel, and almonds
King's Cake (Galette des rois) Starting January 6 and continuing for the entire month, we celebrate the French tradition of the Middle Ages. A 'treasure' is baked into this cake. The finder is crowned King/Queen for the day. Made to celebrate Epiphany.
TASTE FROM GRASS ROOTS!
Cranberry Relish
A great accompaniment for turkey dishes and a tasty alternative to cranberry sauce. Complete your holiday table with this zesty delight!
Complete Traditional Turkey Feast
The meal we look forward to all year, adapted for one or two diners. Roasted turkey, mashed potatoes, stuffing, gravy, and carrots for you to heat up at home.
Tourtiere
Our rendition of this classic French Canadian dish combines prairie-fed bison from Swan Lake First Nation, heritage-bred, free range pork. Pairs deliciously with our house-made wild cranberry sauce.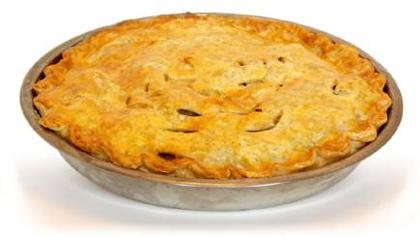 Plum Pudding with Sauce
This dessert reminds us of Christmases past. Serve with our rich sauce to complete your feast. Traditionally, during the making of the pudding, a wish was stirred into the mixture by each family member.
Mincemeat
A nod to English festive culture, this delectable vegetarian mixture of chopped nuts, dried fruit, distilled spirits, and spices is sold in gift-worthy jars. Also available by special order – baked into tarts, or in large containers.
The best of Baba's Eastern European favourites
to take home. Goodness – that's oven ready
Kutia – a wheat-based porridge that starts the Christmas Eve meal
Relaxed cabbage casserole – with red lentils (vegan), or brown rice, bacon, and bison
Perogies – traditional potato and cheddar, or the more exotic, cottage cheese.
Eastern European favorites to take home!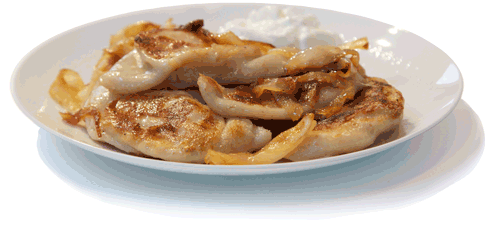 Holiday baking and cooking continues until January 7th in recognition of the Orthodox calendar. Make certain to place your orders, should you be celebrating this tradition.
---
Scroll down for more news and updates…
Breads and sweets - at the other end of the phone
Tall Grass Prairie Bread Company in Wolseley - 204-783-5097 Tall Grass Bakery at The Forks Market - 204-957-5097 It's the time of year that we start hunkering down. More substantial food choices are particularly enjoyable.
Northern Festival Bread - includes cranberries
A dense, festive bread made around the Christmas Season, retains the tradition of special holiday breads.
The goodness of fall grains and seeds, as well as apples, roasted corn, and celebratory cranberries star in this savoury and sweet loaf! Makes a lovely addition as a center piece to your celebratory table. (Seasonally)
Classic Cinnamon Bun - loved by all
The signature Tall Grass Bakery item that Winnipeggers love, and have taken to friends and relative around the globe. Made fresh throughout the day at both our bakeries. What makes the difference?
It's our fresh milled organic whole wheat flour!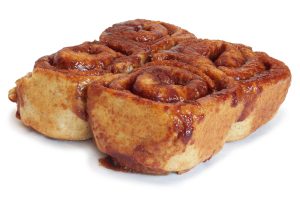 These are just two of the Tall Grass front runners!
Our bakery shelves are stocked with many more of your favourite baked goods. Pop by or order ahead to pick up your delicious delight.
Can't make it to the bakeries? Order from our Wolseley and Forks Market website menus. We also do deliveries.
---
No time to cook? Grass Roots has it all!
Appetizers, pickles, preserves, soups, and prepared meals to heat-and-eat at home
Grass Roots Prairie Prairie Kitchen at The Forks Market - 204-942-5097
Tall Grass Prairie Bread Company in Wolseley - 204-783-5097
Tall Grass Prairie Bread Company at The Forks Market - 204-957-5097
As the calendar zips towards the holidays, and the days and nights get busier, Grass Roots can help out with everything from sides, to soups and full meals.
Crackers, dips, and spreads – a wonderful pairing
Gather friends and family around the table with Grass Roots' crunchy savoury crackers and our fresh dips and spreads.
Try Hummus or Baba Ghanouj, two protein-rich vegan delicacies.
Dip your crackers, or spread them thick, the choice is yours.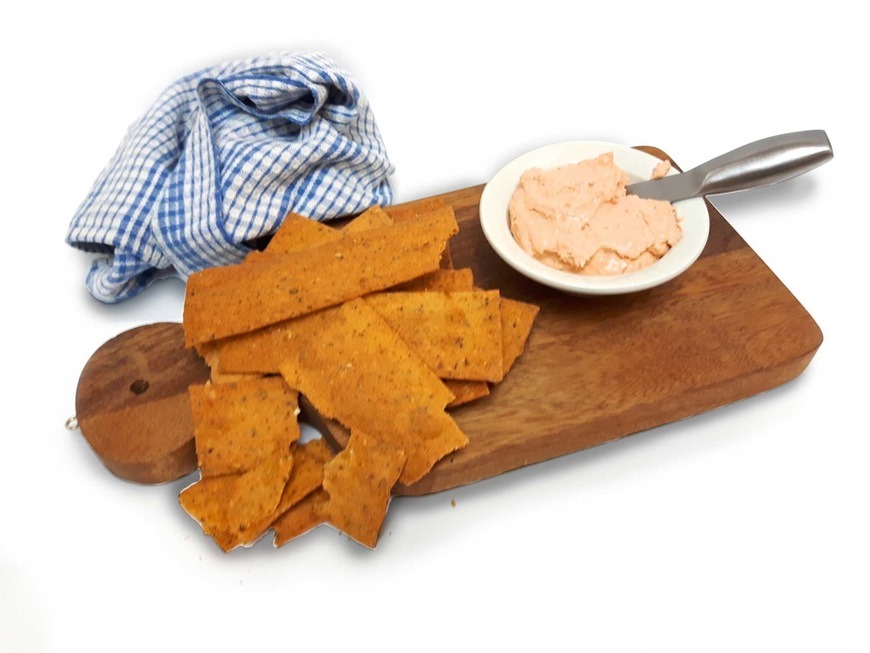 Prepared meals – oven ready
Our delicious dinners, including yummy vegan, vegetarian and meat selections ready to pop in your oven.
Using traditional recipes, methods and local ingredients, these meals are crafted to connect you with the prairies, including Manitoba sourced lean and nutritious bison meat in a number of our dishes.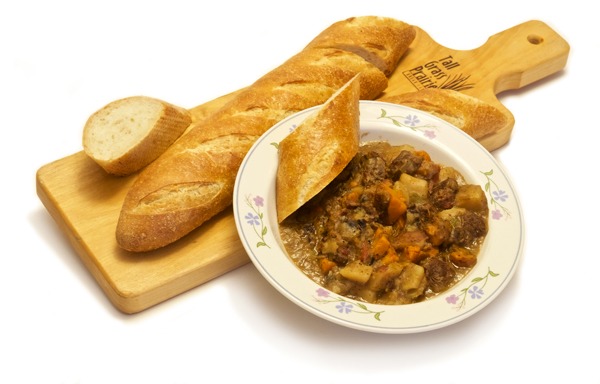 Drop by or call. Selections change almost daily, and rotate with the seasons. Whole grains. Whole food. Wholesome.
Both bakeries carry a selection of Grass Roots products.
VEGFEST 2022 – A LIFESTYLE CELEBRATED
It was a celebration of savoury and sweet – vegan foods – as VegFest went live at their outdoor festival located at the University of Winnipeg, this fall.
The fresh air experience brought a delicious vibrancy to the vendors market, food court, children's area, live music and speakers lineup.
The whole new festival experience and response was an expression of a growing interest and evolving food preferences across society as a whole.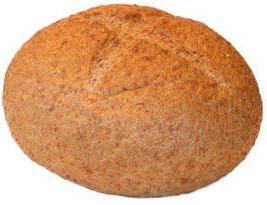 YEAR ROUND VEGAN SELCTIONS AVAILABLE
At Tall Grass a variety of vegan food choices are available every day, and change with the season. Most items are carried at both bakeries, except as noted.
We invite you ask us if you have any questions.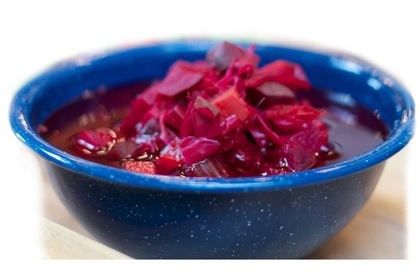 Baguette regular
Baguette multigrain
Whole wheat bread
Whole wheat multigrain bread
Light sourdough rye bread
Light rye (Wolseley)
Northern festival bread (Forks)
Brown rice & corn bread
Spelt sourdough
Multigrain sourdough
Big buns, hamburger & hotdog (Forks)
Hamburger & hotdog buns, whole wheat (Wolseley)
Ciabatta buns (Forks)
Spelt pita (Forks)
Vegan chocolate cake (Wolseley)
Spelt morning glory muffins
Spelt fruit squares
Spelt date squares
Vegan burger
Beet borscht
Cabbage soup
Red lentil soup
Black bean & quinoa salad
Classic bean salad
Wild rice citrus salads
Baba Ghanouj
Hummus
Organic sunflower oil
Half Pints black bean chili
Chickpea & potato stew
Vegetarian chili
Vegan veggie burgers
All Grass Roots canning
All Grass Roots jams, jellies, and syrups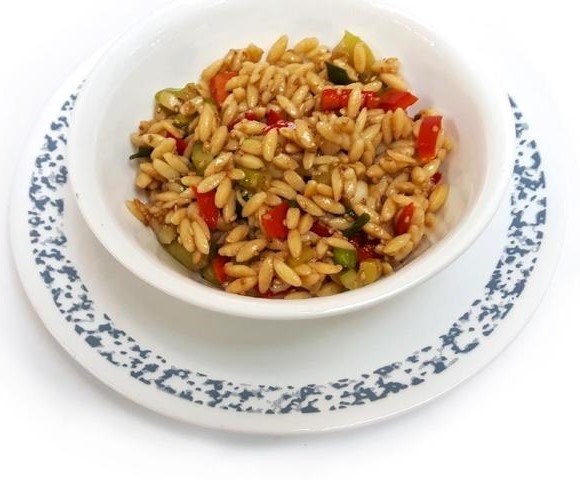 Any day is pie day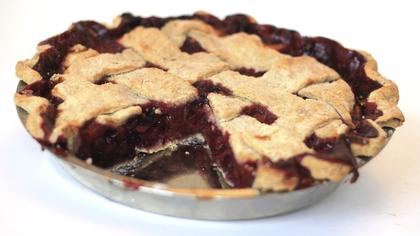 Pie is a celebration in a pan!
Whether you and yours are gathering for dessert and a coffee, or having the whole gang over - consider pie, as the tried and true festive treat.
Our deep dish pie selection varies throughout the year. Seasonal pie choices include apple, Saskatoon rhubarb, prairie fruit, pecan as well as pumpkin.
Place an order by phone to reserve yours.
859 Westminster - 204-783-5097
The Forks Market - 204-957-5097
Baked to please… Our cakes are amazing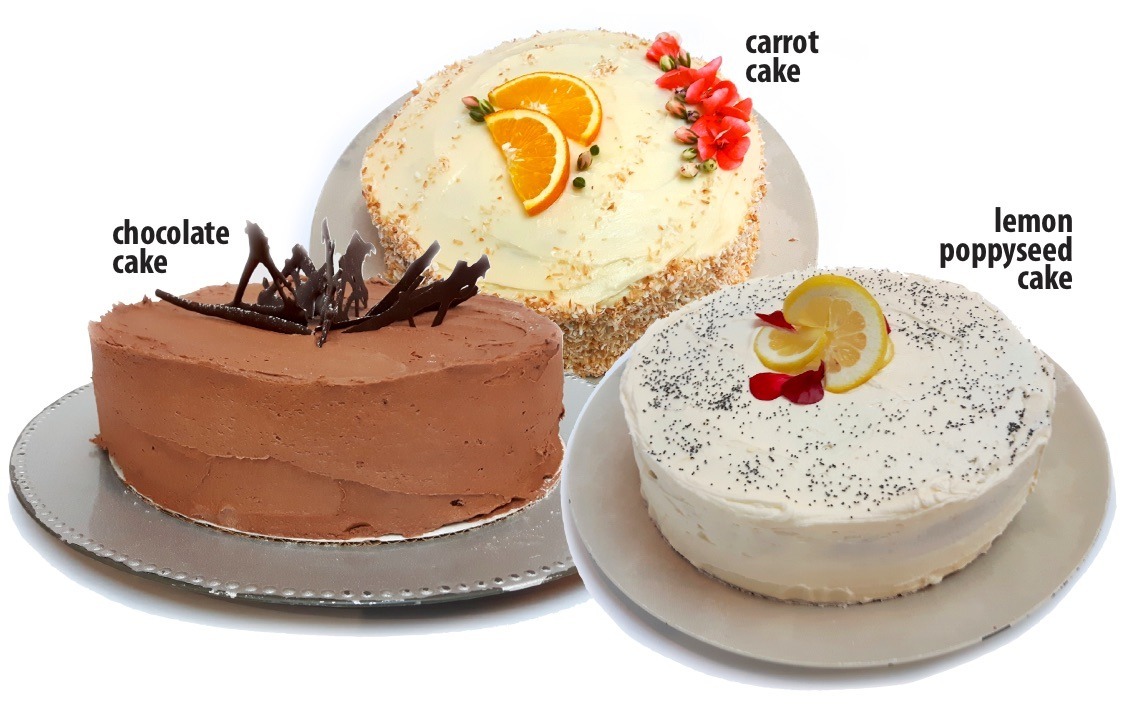 Take a Tall Grass cake to your next special gathering. Choose from our classic luscious chocolate cake, our tangy lemon poppyseed cake, or our carrot cake with that creamy icing we've all loved since childhood.
Each of our three cake now come in two different sizes: six inch for a you and your closest friends, and nine inch when the whole gang might show up!
Call ahead to ensure your cake is waiting for you at the right moment.
859 Westminster - 204-783-5097
The Forks Market - 204-957-5097
Calling our pie plates back home!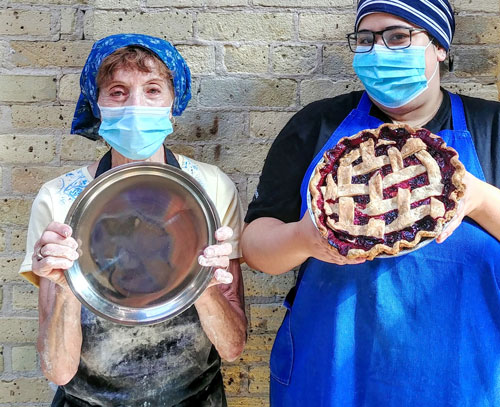 If you're one of our pie customers, Tall Grass Prairie Bread Company is asking you to look through your kitchen cupboards to see whether you might have some of our metal reusable pie plates waiting and eager to return to our bakeries.
Years ago, we began using sturdy metal deep dish pie plates for all our pies, out of respect for our Mother the Earth. Since that time, our deep dish pies have become customer favourites. Return these pie plates and we will give you $5 for each one.
---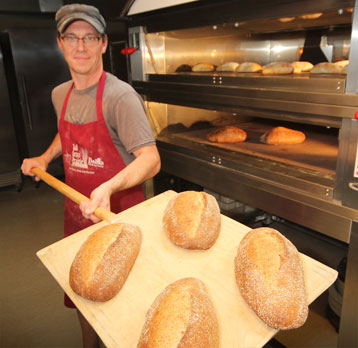 featuring Desem Breads
Crunchy on the outside, chewy on the inside. European-inspired and naturally leavened.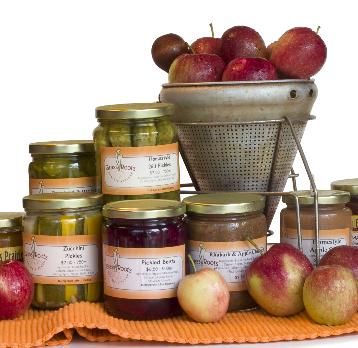 traditional canning
We can do it. Grass Roots Prairie Kitchen takes a can-do attitude to traditional canning.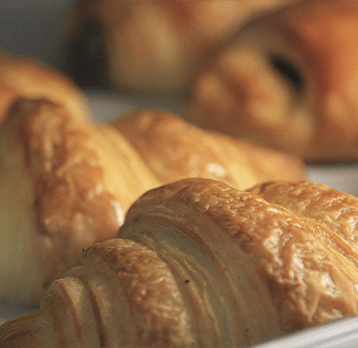 Opening hours
Fresh baking and local food, made from scratch. Check out our hours.

Featuring Desem breads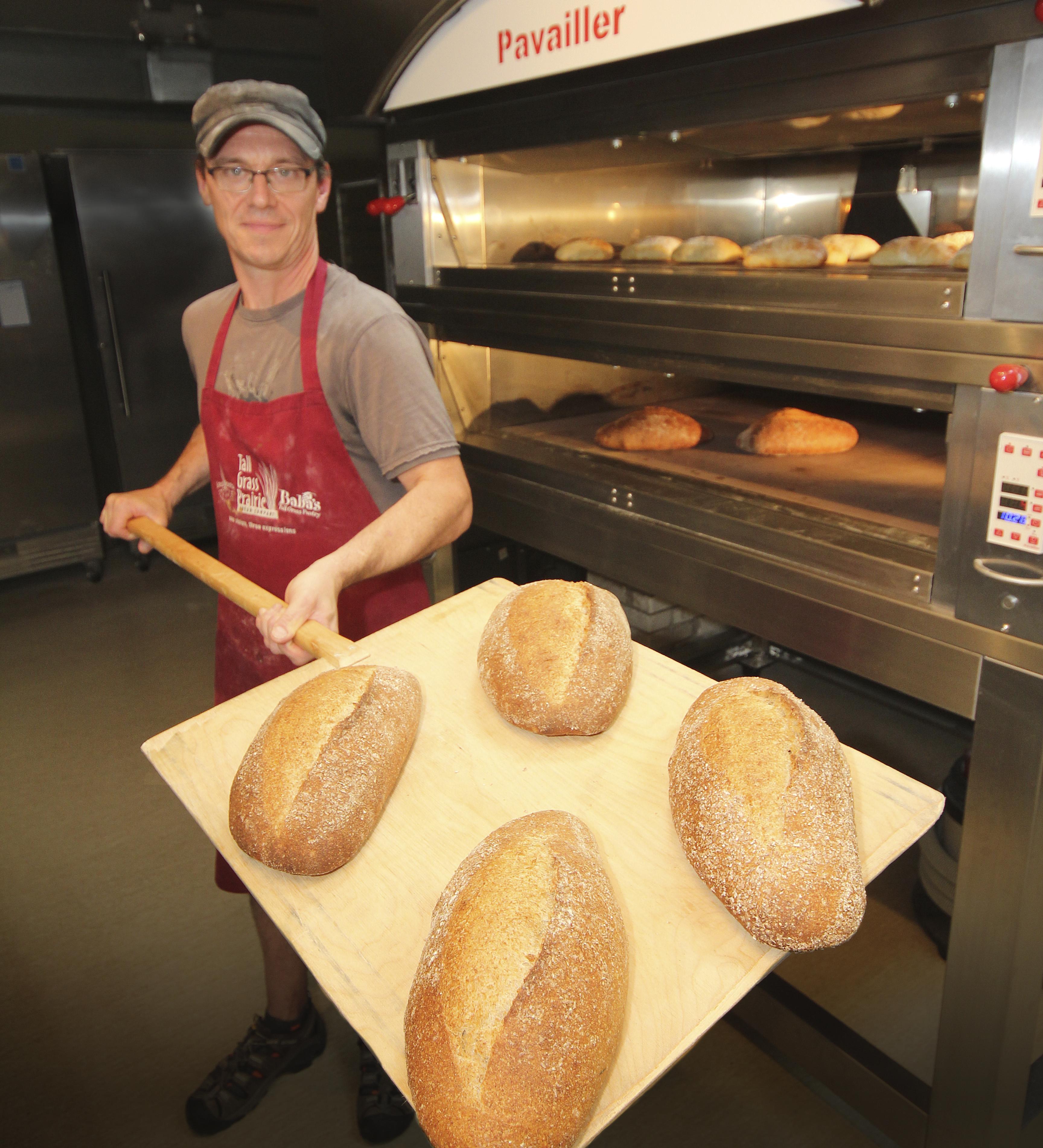 The loaves come out of the oven – crusty on the outside and chewy on the inside.
These are the hallmarks of the European-inspired, naturally leavened loaves featuring a sourdough starter. Desem breads are also well known for what's not in them - no added commercial yeast, oil, sugar or honey. In the 'Desem' fermentation process, a natural culture occurs that allows the bread to rise.
At Tall Grass Prairie Bread Company, it all starts with our own freshly ground organic whole grain flour made from Red Fife, Spelt and Rye, as well as other grains.
A growing appreciation for the Desem style of nutrient-rich sourdough baking demands the use of a brick oven to bring out the finer details, as was done in Europe for centuries. This is where our brick oven upstairs at our bakery in Wolseley is at its best.
Try these finely crafted Desem breads, including our:
Fig walnut / Olive rosemary
Heavy German Rye
Multigrain sourdough
Onion Rye.
Potato dill
Spelt sourdough
Also emerging fresh from this oven are Ciabatta buns and baguettes, and the occasional pizza. Enjoy!
Traditional canning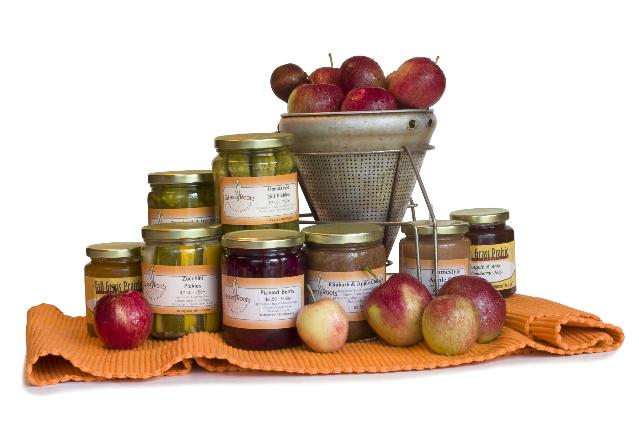 Who has the time for traditional canning, the way Granny did it? We do!
At Grass Roots Prairie Kitchen we follow the time-honoured steps that bring you delicious local canning from the farm to your table. Come and watch us at working during the late summer and into the autumn at our kitchen in The Forks Market as we bring you summer in a jar through this prairie custom.
Our delicious choices include, but are not limited to:
Apple and wild cranberry jam
Manitoba Saskatoon jam
Apricot sunrise jam
Homestyle apple sauce
Rhubarb apple chutney
Salsas (mild, medium, or hot)
Homestyle dill pickles
Bread and butter pickles
Pickled beets
and much, much more!
At Grass Roots Prairie Kitchen, we are preserving more than food. We are preserving a heritage. A selection of our canned items is also available at Tall Grass Prairie Bread Company in Wolseley, 859 Westminster Avenue, and Tall Grass in The Forks Market.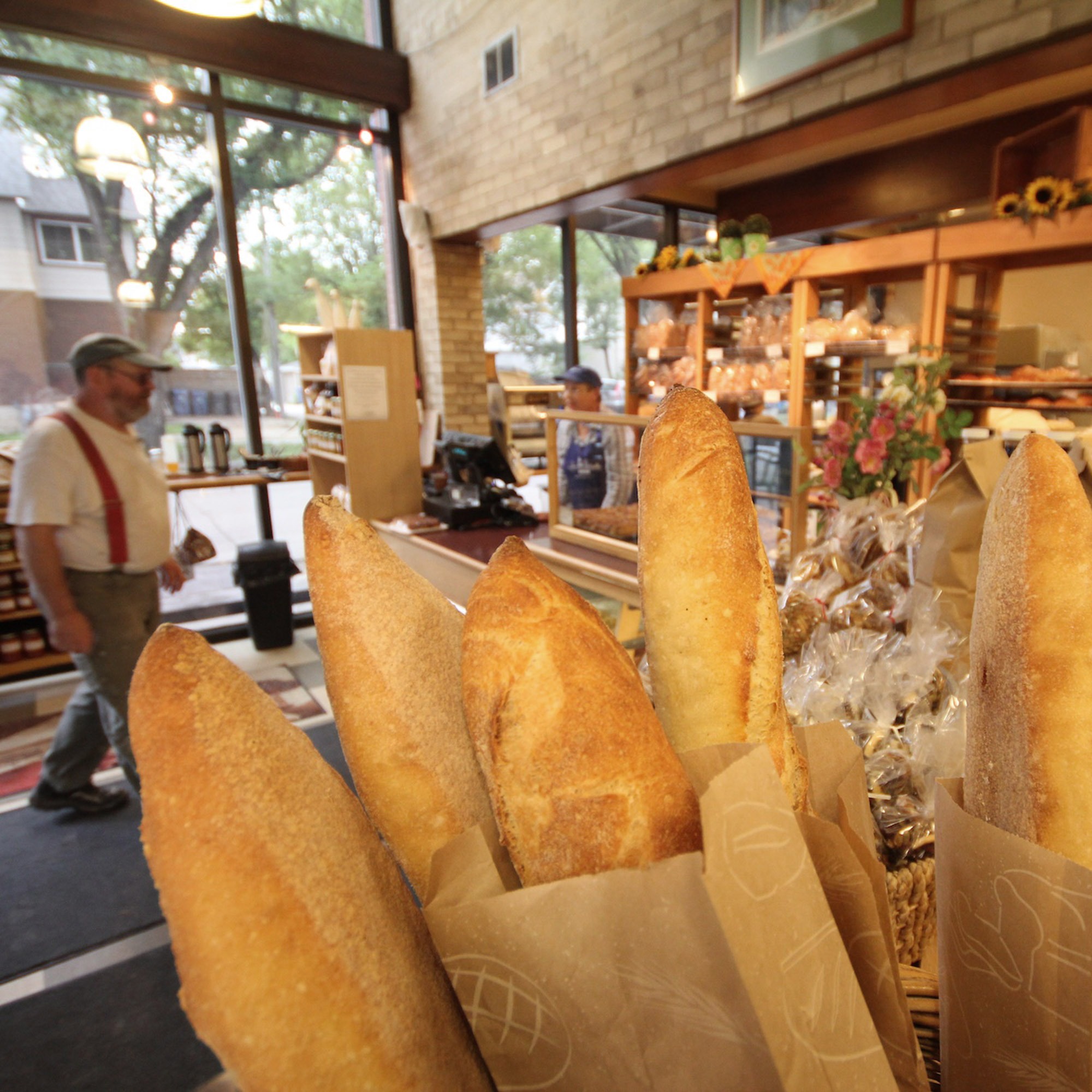 Tall Grass Prairie Bread Company in Wolseley, 859 Westminster
OPEN Mondays-Fridays 7 AM-6 PM Saturdays 7 AM-5 PM
Closed Sundays and all holidays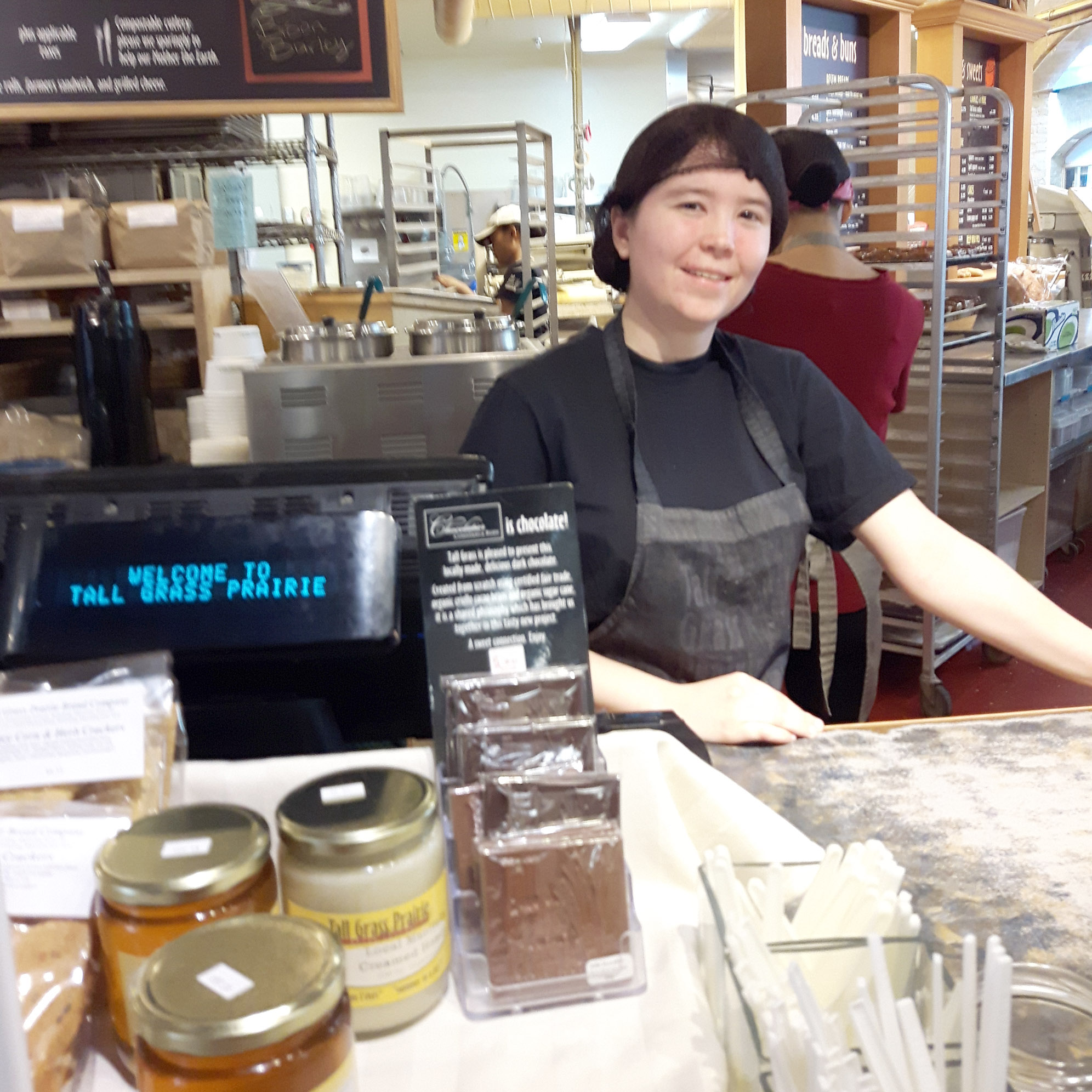 Tall Grass Prairie Bread Company in The Forks Market
OPEN every day, 7 days a week
Mondays-Sundays 7 AM-7 PM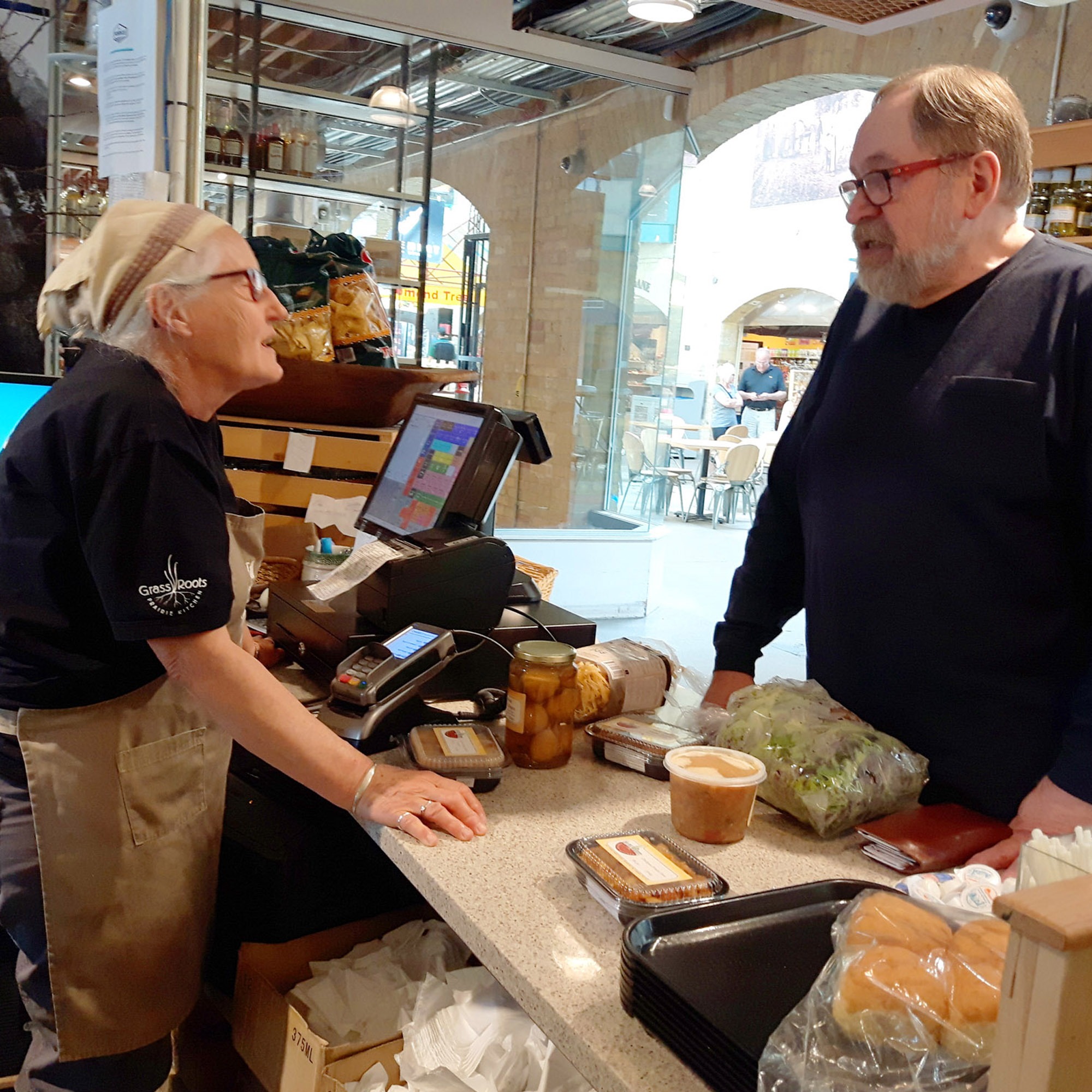 Grass Roots Prairie Kitchen
in The Forks Market
OPEN every day, 7 days a week
Mondays-Sundays 10 AM-6 PM
At The Forks, we are open most holidays except: Remembrance Day (November 11) & Christmas Day (December 25)