Tall Grass Prairie Bread Company

Tall Grass Prairie Bread Company and Grass Roots Prairie Kitchen acknowledge that we are located on the ancestral lands of the Anishinaabeg, Dakota, and Ininiwak. We would also like to acknowledge the other First Nations such as the Anish-Ininiwak, Dene, and Nehethowuk, who gathered at this ancient site sharing these lands and waterways. We acknowledge that we are on the homeland of the Métis and are grateful to the First Nations of Treaty One who agreed to share this beautiful prairie land, giving us the opportunity to cook and bake for you.
[WINNIPEG, December 5th, 2023]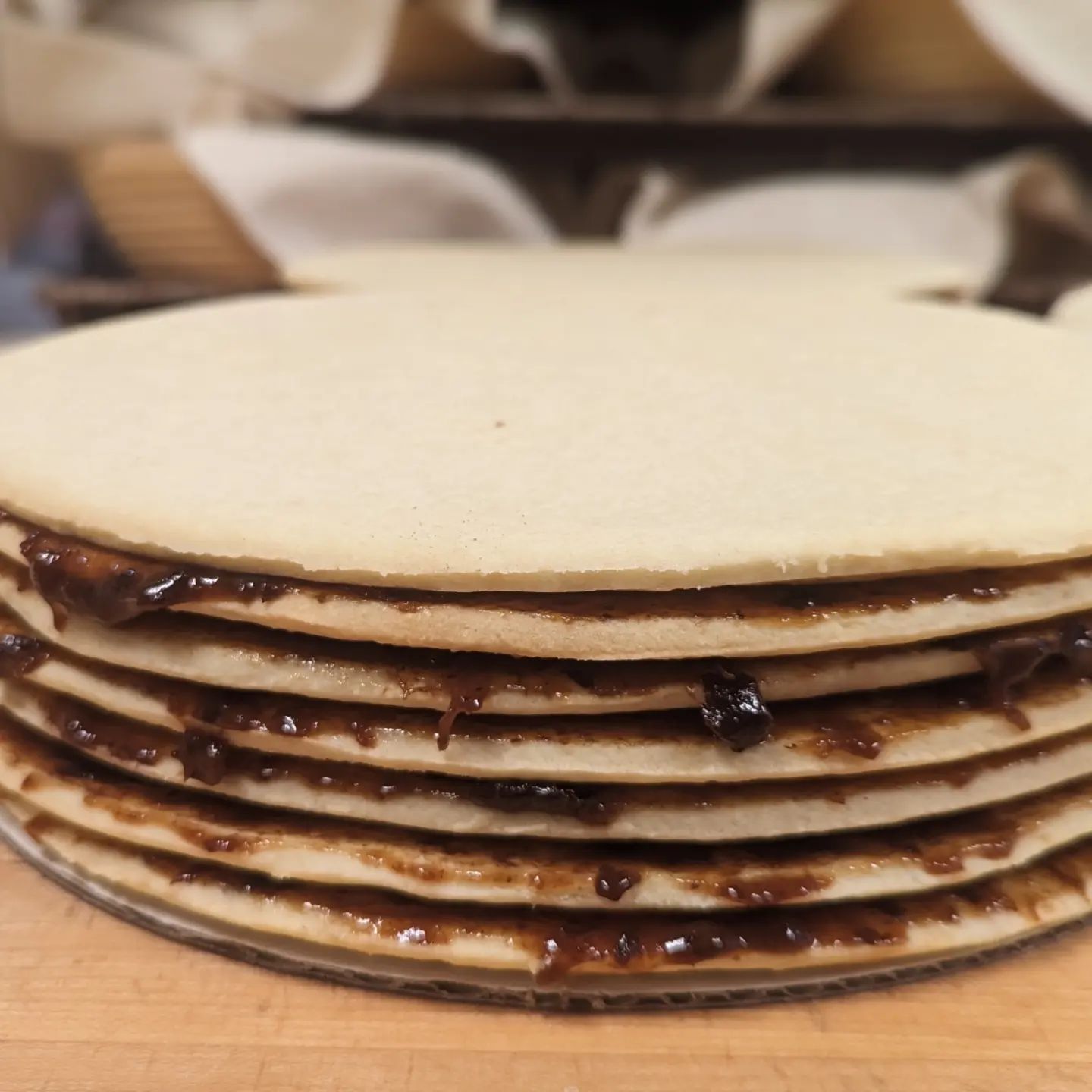 Vinaterta has arrived at both our bakeries!
After weeks of preparation and curing, this Icelandic treat, which is so well loved in Manitoba, finally gets it time to shine.
Vinarterta is a dense layer cake made from cookie layers stacked in between delicious prune filling. The cakes are then wrapped and left to cure for several weeks. During its curing time, the prune filling soaks into the buttery cookie layers with a incredible pairing of flavours.
At Tall Grass we make a 9 inch round vinarterta. In addition to the whole round, our vinarterta is also available in halves, quarters, eighths, as well as tenths – with icing or without. Please note that tenths are only available at The Forks Market location.
How the story
of Tall Grass began...
We opened Tall Grass Prairie Bread Company in Winnipeg's Wolseley neighbourhood in 1990. The foundation of Tall Grass has always been based on baking with heritage varieties of organic wheat, grown by Manitoba farmers, milling our own flour and baking from scratch.
More than 30 years later, there are two Tall Grass bakery locations: one in Wolseley and the other at The Forks Market, along with Grass Roots Prairie Kitchen.
We use Red Fife wheat in our bakery, a tasty, nutty ancient variety. It joined Spelt, another ancient grain, known for its low glycemic index and lower gluten content. As bakers in the land where we live and work, we consider it an honour to bake with these two ancient grains.
Pre-paid pickup and delivery orders
We welcome you to our bakeries for in-person shopping, and also continue to offer pre-paid and delivery service at both our locations. Choose your most convenient bakery below!
–– your friends at Tall Grass and Grass Roots
We use electric, hybrid-electric, hybrid-propane and vegetable oil powered vehicles. A small 4-cylinder gasoline van with a large load capacity is used when required.
Sweet & Savoury to share and enjoy
– place your order now
Tall Grass Prairie Bread Company and Grass Roots Prairie Kitchen are baking and making seasonal specials and regular favourites for you to share at your gatherings with family, friends and colleagues.
To ensure your favourites are ready for you, when you would like to share and enjoy them, place your Christmas and holiday orders now in person or by calling:
CHRISTMAS HOURS
• Tall Grass in Wolseley
859 Westminster Avenue • 204-783-5097
OPEN Sat, Dec 23 7 AM - 5 PM
SPECIAL HOURS Sun, Dec 24 9:30 AM - 4 PM
CLOSED Dec 25, 26, 27
• Tall Grass at The Forks Market
The Forks Market • 204-957-5097
OPEN Sat, Dec 23 7 AM - 7 PM
OPEN Sun, Dec 24 7 AM - 4 PM
CLOSED Dec 25
OPEN DEC 26 & 27 7 AM – 7 PM
• Grass Roots at The Forks Market
The Forks Market • 204-942-5097
OPEN Sat, Dec 23 10 AM - 6 PM
OPEN Sun, Dec 24 10 AM - 4 PM
CLOSED Dec 25
OPEN DEC 26 & 27 10 AM – 6 PM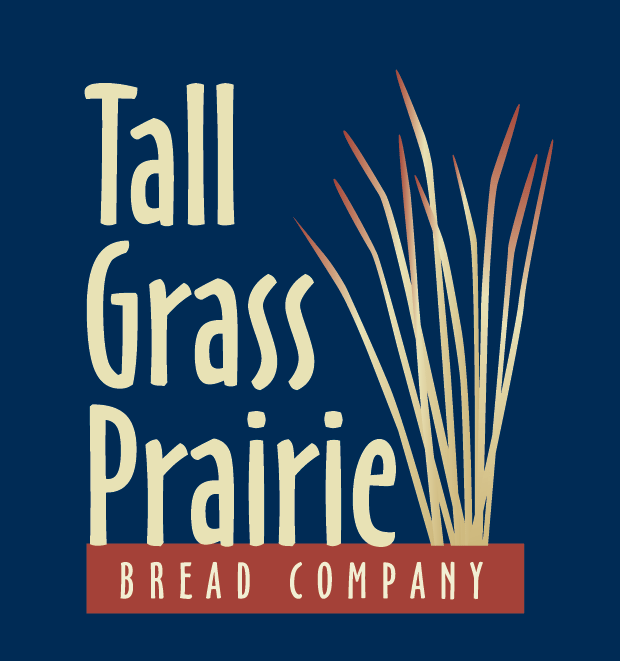 FROM TALL GRASS – seasonal sweets!
Vinarterta
We thank the Icelandic community for this delicious treat. To Carri and Signi and their Amma (Grandma), we are especially grateful for the careful and gentle teaching of their time-honoured method. Available with or without icing.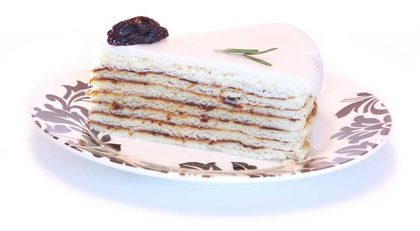 Tall Grass Fruit Cake
Fruit and nut laden – we follow all the best traditions with this recipe. The fruit is aged in rum or brandy and fresh cider before being careful baked. And, yes, we do wrap it in cheese cloth!
Christopomo Bread
An ancient bread from the Greek Orthodox heritage, rich in butter, eggs, honey, and anise. Decorated with almonds.
Tall Grass Fruit Bread
When you add fruit to a lovely light bread dough, the result is a sweet simple harmony that blesses the senses.
Special Seasonal Cookies
Mocha Kisses: A delightful blend of butter, chocolate, coffee and sugar
Russian Tea Biscuits: This royal shortbread creation is made with butter and crushed pecans
Hazelnut Chocolate Dreams: Indulge yourself and your guests in this rich buttery hazelnut cookie dipped in chocolate
Florentines: It's wonderful what you can make with chocolate, candied orange peel, and almonds.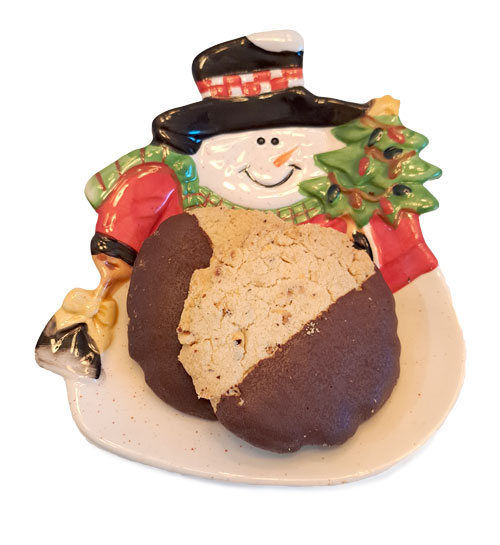 King's Cake (Galette des rois)
Starting January 6 and continuing for the entire month, we celebrate this French tradition of the Middle Ages. A 'treasure' is baked into this cake. The finder is crowned King/Queen for the day. Made to celebrate Epiphany.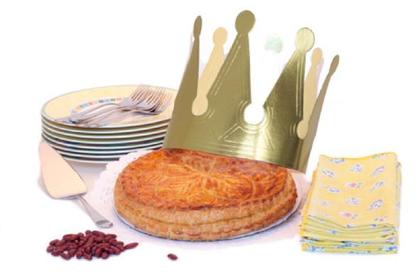 FROM GRASS ROOTS – savoury satisfaction!
Cranberry Relish
A great accompaniment for turkey dishes and a tasty alternative to cranberry sauce. Complete your holiday
Complete Traditional Turkey Feast
The meal we look forward to all year, adapted for one or two diners. Roasted turkey, mashed potatoes, stuffing, gravy, and carrots for you to heat up at home.
Ham & Scalloped Potatoes
Running a close second in the Favourite Meal Department, this dinner adheres to the best of traditions, including a tangy mustard sauce which tops the ham.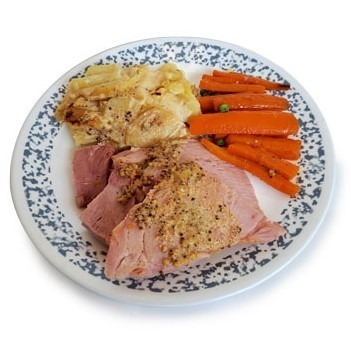 Tourtiere
Our rendition of this classic French Canadian dish combines prairie-fed bison from Swan Lake First Nation and heritage-bred, free range pork. Pairs deliciously with our house-made wild cranberry sauce.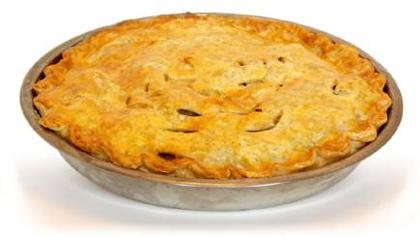 Plum Pudding with Sauce
Christmases past are remembered with this dessert. Serve with our rich sauce to conclude your feast. It is said that when making the pudding, a wish was stirred into the batter by each family member.
Mincemeat
A nod to English festive culture, this delectable vegetarian mixture of chopped nuts, dried fruit, distilled spirits, and spices is sold in gift-worthy jars. Also available by special order – in large containers or baked into tarts.
The best of Baba's
Eastern European favourites to take home. Goodness – that's oven ready:
• Kutia – a wheat-based porridge that starts the
Christmas Eve meal
• Cabbage roll casserole – with red lentils (vegan), or
brown rice, bacon, and bison
• Perogies – traditional potato and cheddar, or the more
exotic, cottage cheese. Sold frozen.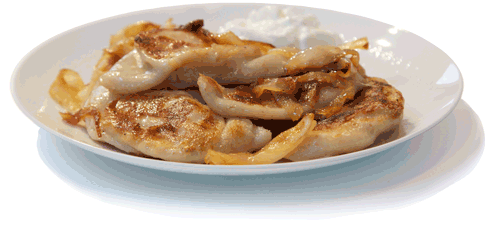 Holiday baking and cooking continues until January 7th in recognition of the Orthodox calendar. Make certain to place your orders, should your be celebrating this tradition.
Our baked goods also available here
WOLSELEY ITEMS
Cafes
Shops
FORKS ITEMS
Cafes
Restaurants
Shops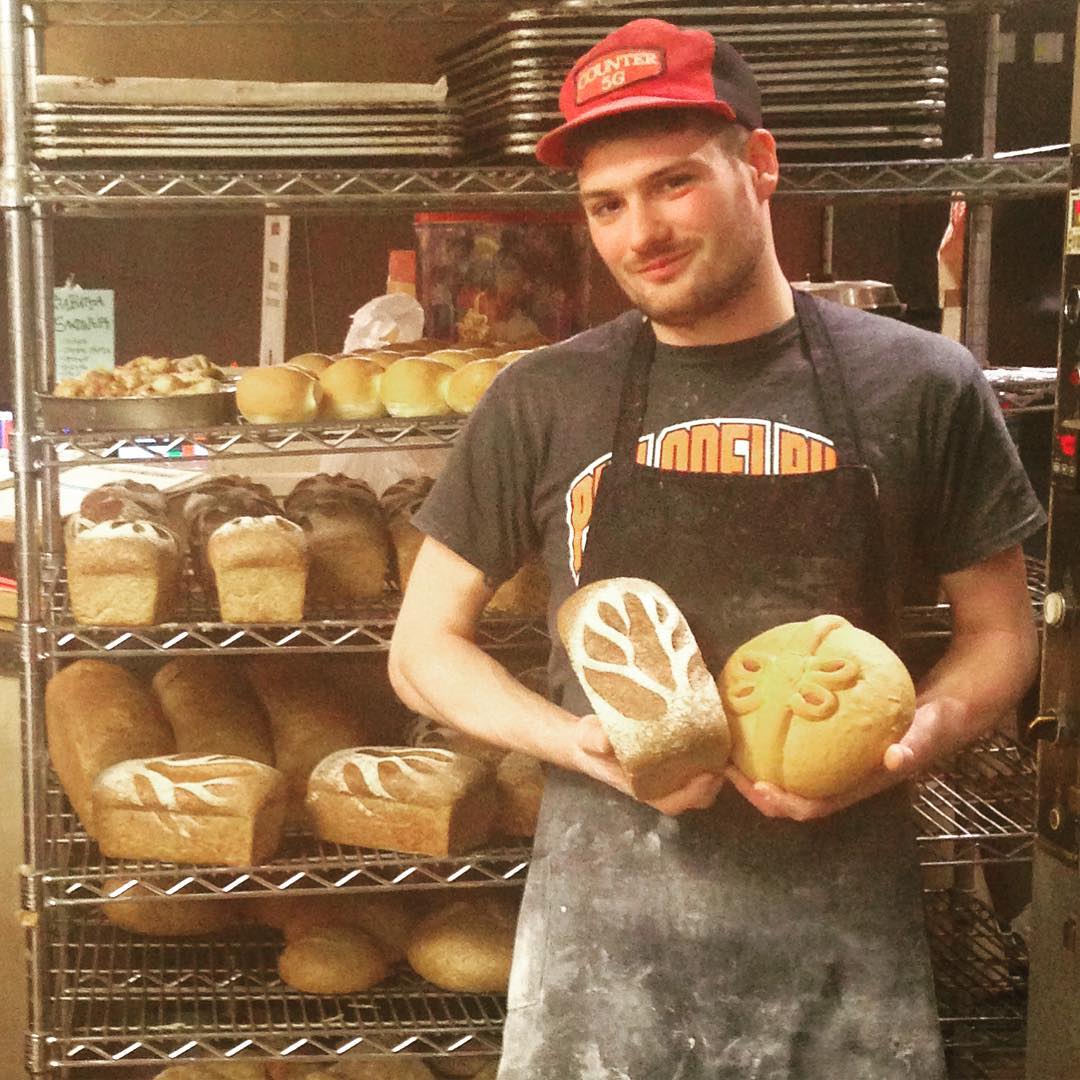 Purchase 10 breads or more and receive 10% discount. Applies whether you choose one type of bread or many. Discount available in-store, and for pre-paid orders. Please call 2 days ahead, to allow for order prep. Offer does not apply…
Read More
VEGAN SELECTIONS AVAILABLE — YEAR ROUND
At Tall Grass a variety of vegan food choices are available every day, and change with the season. Most items are carried at both bakeries, except as noted.
We are happy to answer any questions you may have.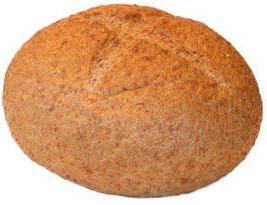 Baguette regular
Baguette multigrain
Whole wheat bread
Whole wheat multigrain bread
Light sourdough rye bread
Light rye (Wolseley)
Northern festival bread (Forks)
Brown rice & corn bread
Spelt sourdough
Multigrain sourdough
Big buns, hamburger & hotdog (Forks)
Hamburger & hotdog buns, whole wheat (Wolseley)
Ciabatta buns (Forks)
Spelt pita (Forks)
Vegan chocolate cake (Wolseley)
Spelt morning glory muffins
Spelt fruit squares
Spelt date squares
Vegan burger
Beet borscht
Cabbage soup
Red lentil soup
Black bean & quinoa salad
Classic bean salad
Wild rice citrus salad
Baba Ghanouj
Hummus
Organic sunflower oil
Half Pints black bean chili
Chickpea & potato stew
Vegetarian chili
Vegan veggie burger
All Grass Roots canning
All Grass Roots jams, jellies, and syrups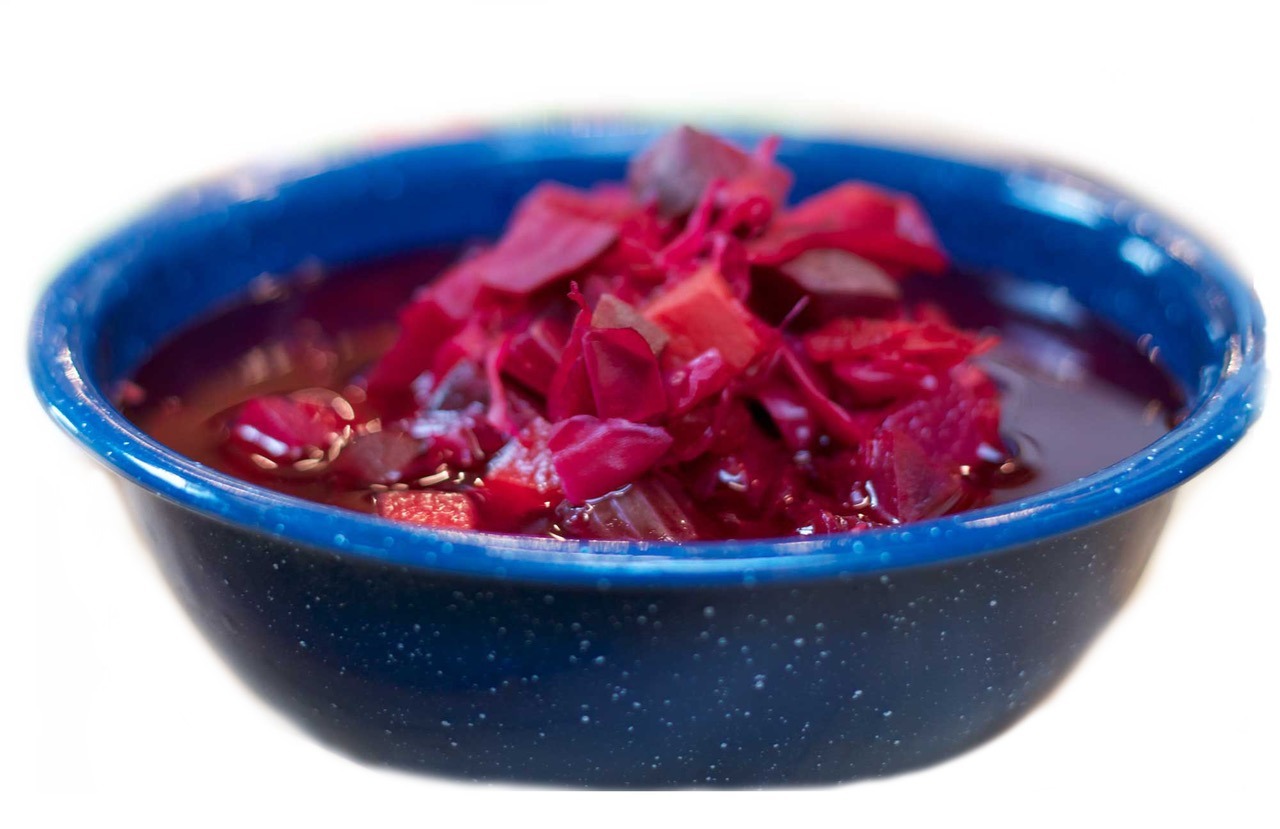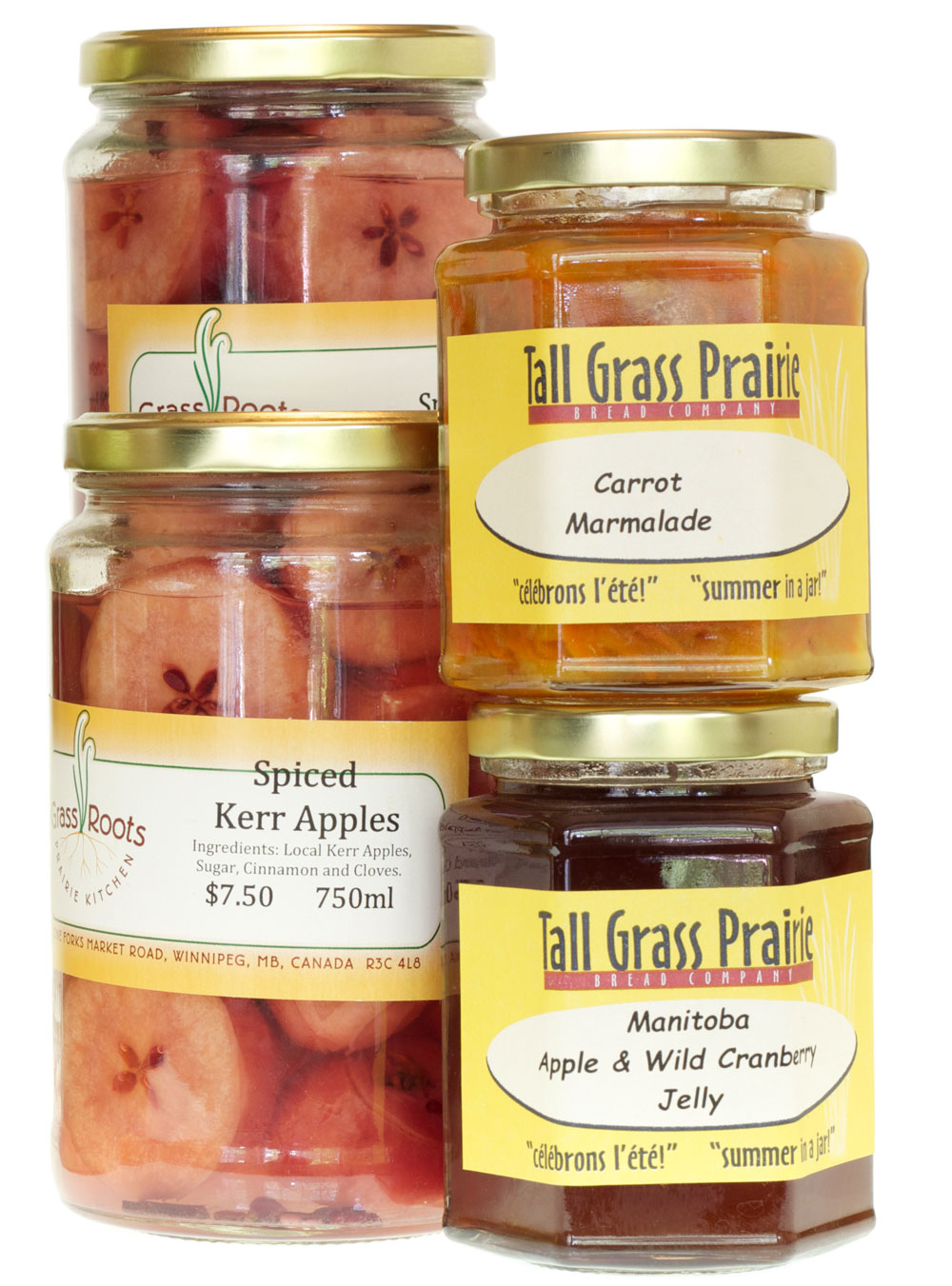 Thanks!
For your amazing support we thank you. Your kindness, gentle manner and loyalty is truly extraordinary. For this, we are very grateful. Our goal is to bake, cook and make available your favourite items. Tall Grass and Grass Roots continue to be all about local, organic, fresh-milled, and made from scratch whole food.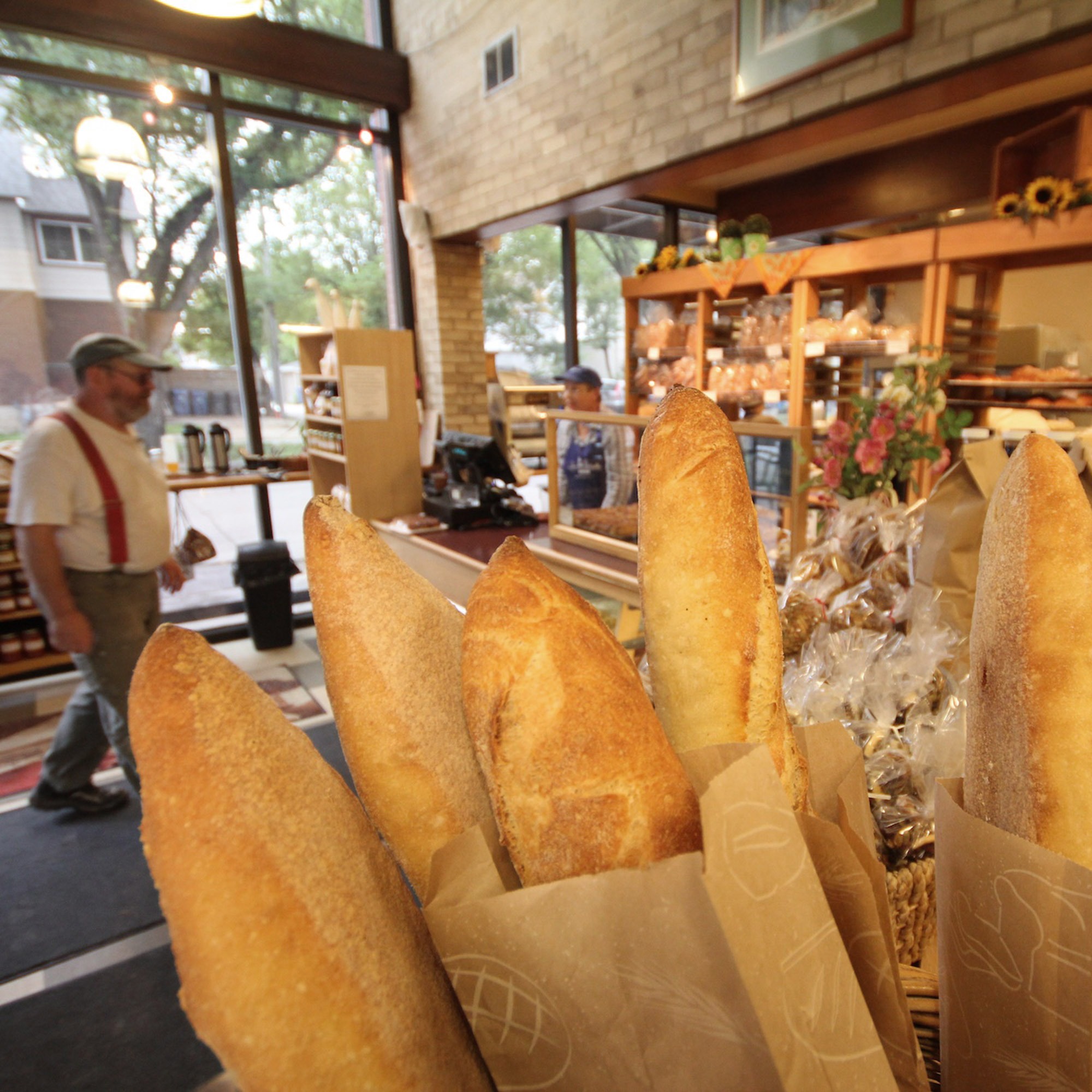 Tall Grass Prairie Bread Company in Wolseley, 859 Westminster

OPEN Mondays-Fridays 7 AM-6 PM Saturdays 7 AM-5 PM
Closed Sundays and all holidays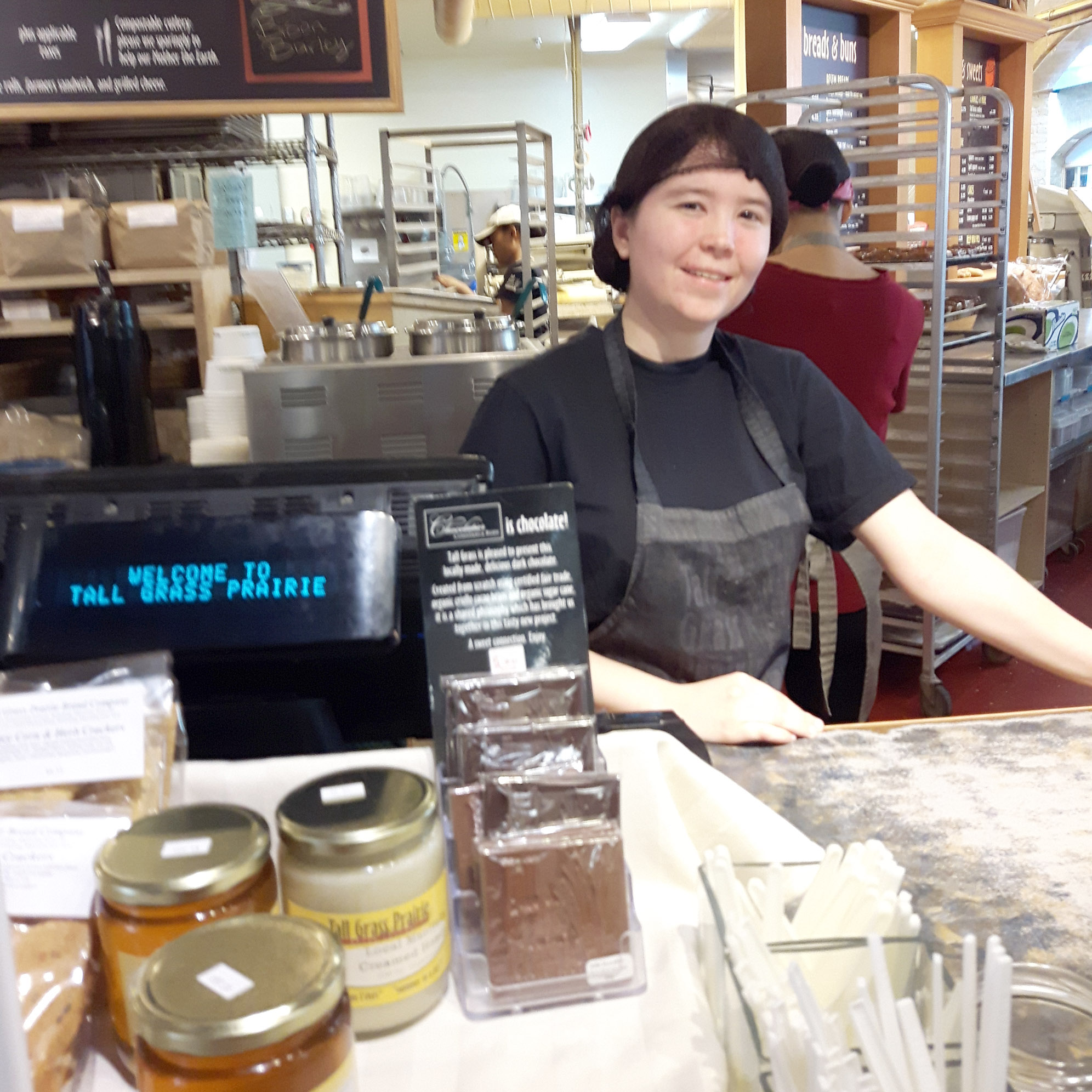 Tall Grass Prairie Bread Company in The Forks Market
OPEN every day, 7 days a week
Mondays-Sundays 7 AM-7 PM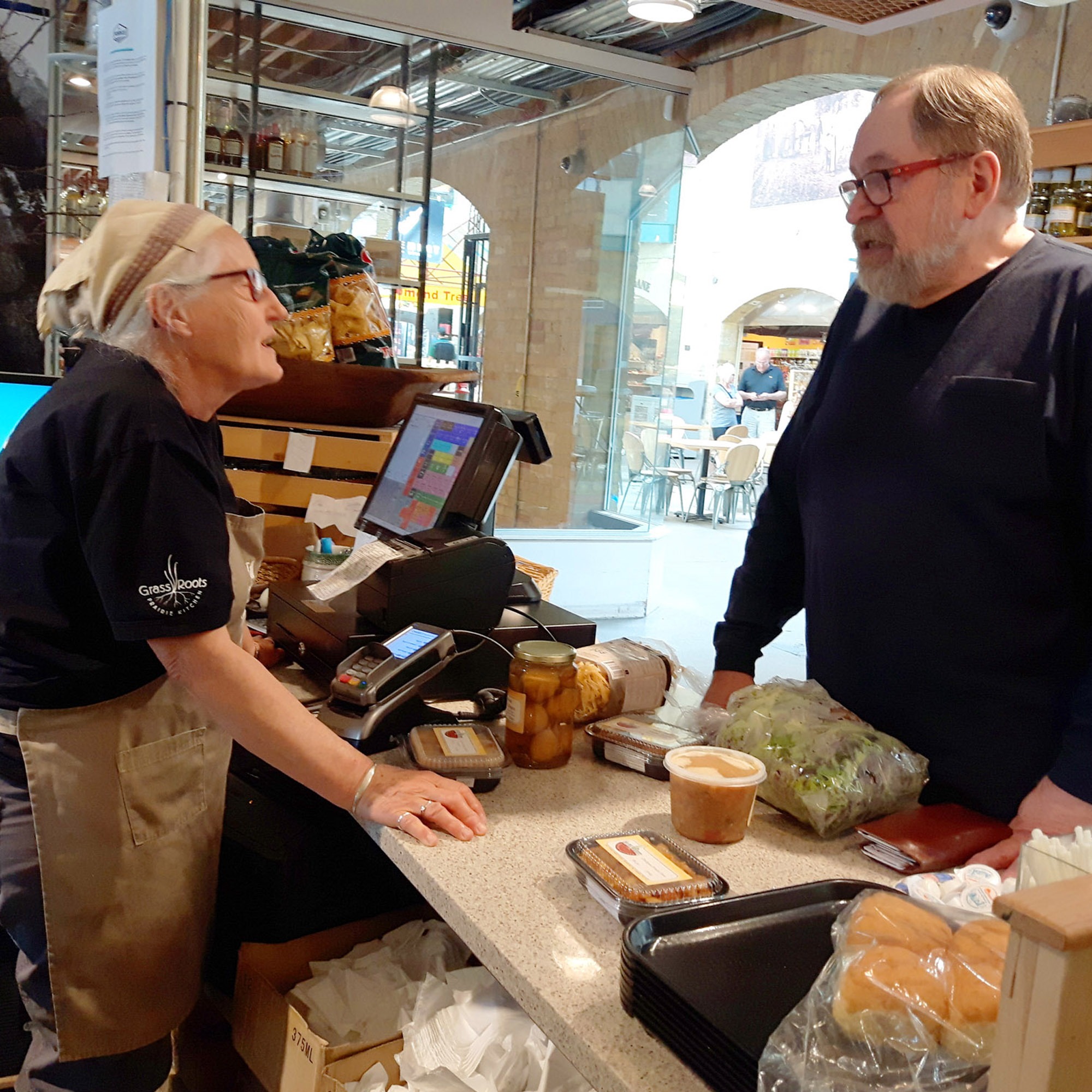 Grass Roots Prairie Kitchen
in The Forks Market
OPEN every day, 7 days a week
Mondays-Sundays 10 AM-6 PM
At The Forks, we are open most holidays except:
Remembrance Day (November 11) & Christmas Day (December 25)