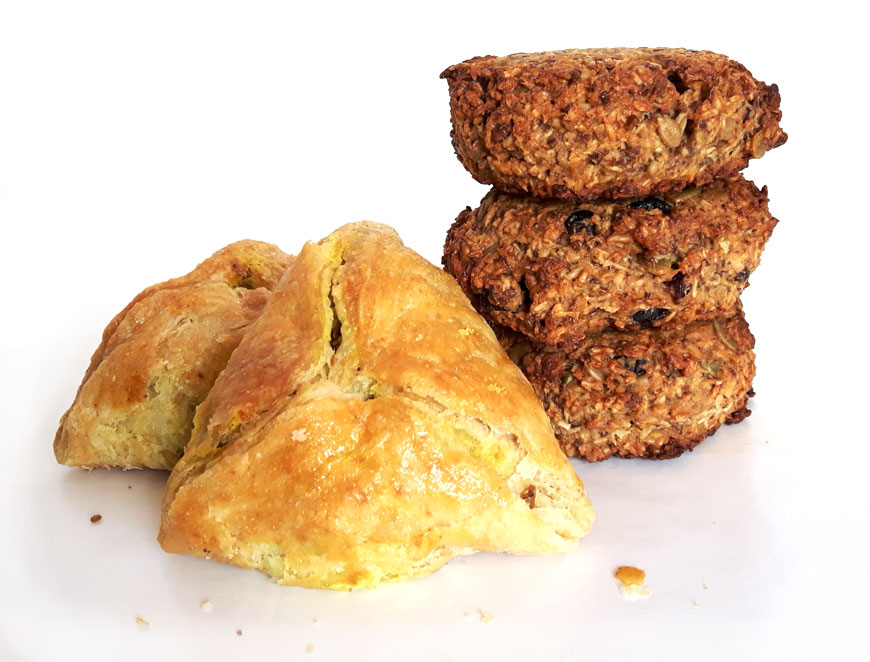 Mostly Weekly
Some of our other delicious bits are available – mostly weekly – yummy items made once a week at our Tall Grass Prairie Bread Company bakery in Wolseley, and maybe twice a week at our bakery at The Forks Market. You will also find a few especially delightful delicacies baked every day of the week, while others are just available on the weekend. This page will tell you – what, when and where.
The influences of the featured morsels come from around the world. Some of the recipes remember the home countries of our staff. Other favourites have been preserved through the traditions of local family kitchens. And then there is the creativity of our bakers!
You'll find both savoury and sweet choices. Enjoy!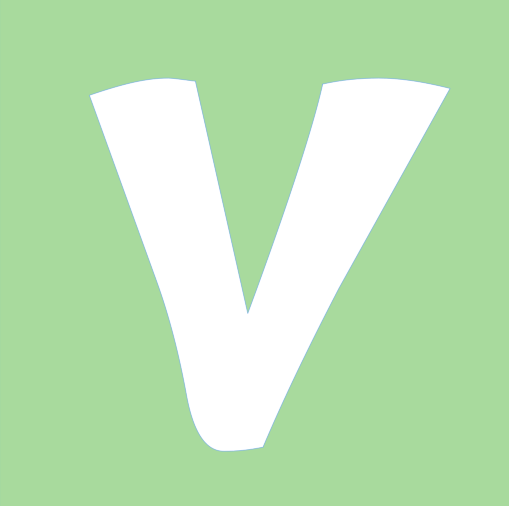 Look for this symbol to identify our vegan friendly options
Breakfast cookie
Low in gluten and sugar! Our Breakfast Cookie is the Tall Grass version of the power bar. It's filled with prairie seeds – pumpkin, sunflower, sesame and flax, along with dried cranberries, eggs and a little honey. It promises a great boost to your morning! Thanks to staff member, Yvonne Hoffer, for bringing her recipe to us. (Mondays through Saturdays at Wolseley & daily at The Forks Market)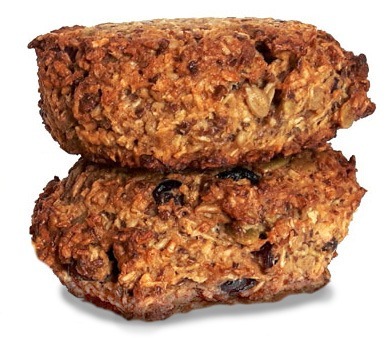 Crostini
What's in our yummy crostini? Sliced day-old baguettes are combined with Manitoba certified organic cold-pressed sunflower oil, pureed garlic, oregano, rosemary, a bit of paprika, salt and pepper. Thoroughly mixed, they are popped into the oven and toasted until light brown. Perfect as croutons, or ready for you as a savoury topping!
(Mondays through Saturdays at Wolseley & daily at The Forks Market)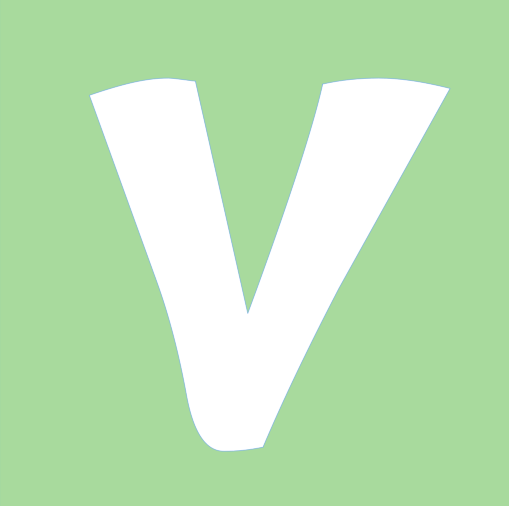 KAMUT SQUARE
Kamut Khorasan wheat is a non-hybridized ancient wheat which was discovered in Egypt. It has a rich nutty flavour, and in comparison to modern wheat has more protein, amino acids, vitamins and minerals. At Tall Grass in Wolseley, we celebrate this grain rather like the Puffed wheat square of days gone by. Cocoa, vanilla, butter, sugar and some syrup make it memorable. (Daily at Wolseley)
MILLET SQUARE
Remember Rice Krispies marshmallow squares as part of a fond recollection of school lunches, bridal showers and family gatherings? The Tall Grass version may well retrace those bites. Butter, brown sugar and chocolate create a delightfully gooey binding, while dried cranberries add a bit of tart texture. A satisfying snack that is not too sweet. Sometimes also made with rice. (Daily at The Forks Market)
Cheese pocket
Winner of our unofficial self-described Comfort Food Snack Award, the Tall Grass Cheese Pocket has been a staple of our bakery at The Forks Market for years! It's made with white baguette dough, a dollop of our own tomato sauce and a handful of local cheddar cheese on the inside. Ready to go, wherever your day takes you. (Daily at The Forks Market)
Cheese Sticks
Difficult to resist, our Cheese Sticks offer cheese, seeds and a twist. It serves as a great snack for people on the move, and is an excellent light addition to a soup and / or salad combination. Usually bought in pairs! (Mondays through Saturdays at Wolseley & daily at The Forks Market)
Mushroom turnover
A rich and filling savoury snack – with a regional twist dependent upon your bakery of choice! A cream cheese (at Wolseley), or sour cream (at The Forks Market) and egg pastry envelopes cooked mushrooms in a reduced spiced cream sauce. A bit on the peppery side. Delicious cold or heated. (Mondays at Wolseley; Saturdays, Sundays & Mondays at The Forks Market)
Pizza Danish
Grass Roots
house-made tomato sauce, as well as mozzarella cheese top a whole wheat shell for this delicious munch. The combination of flavours reinforces what's great about going back to the basics! Great on its own or as as a side with soup or salad.
(Tuesdays at Wolseley)
Samosa
Check out the flaky pastry stuffed full of potatoes, peas, onions and Eastern-influenced spices, served with a date sauce. Spicy enough to tweak your taste buds. Get yours early! Our samosas are a popularity contest winner! (Wednesdays at Wolseley)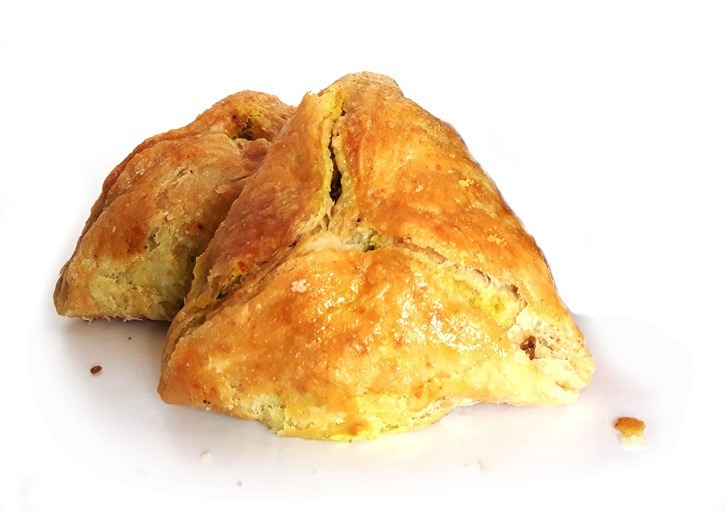 Fruit turnover
The Tall Grass Fruit Turnover, is rather like the best of our fruit pies, with the additional feature of being portable! Our flaky pie pastry lovingly surrounds the filling – made from either local apples or Saskatoon rhubarb. Expect that you will have an excellent day, if our Fruit Turnover is part of your lunch kit.
(Thursdays at Wolseley; Saturdays and Sundays at The Forks Market)
Spelt mini pizza
The history of pizza begins in antiquity. The Tall Grass Spelt mini pizza carries this time honoured tradition forward, joyously satisfying that craving. Catch them coming hot out of the oven between 11 am and 12 noon.
(Thursdays & Saturdays at Wolseley)
Beekos
Spinach, sauteed onions, feta cheese, dried dill, eggs and pepper in whole wheat dough – baked to perfection, and emerging from the oven sometime around 11 am Friday mornings. A Greek meal in a bun, which makes you wish that every week had two Fridays!
(Fridays at Wolseley)
Cinnamon croissant
This yummy sweet highlights the integrated skills of bakers Loic Perrot and Ryan Stoez, in the coming together of French croissants combined with Tall Grass influence. The result is a rich, buttery, gooey morsel. Sensationally scrumptious! (Fridays & Saturdays at Wolseley; daily at The Forks Market)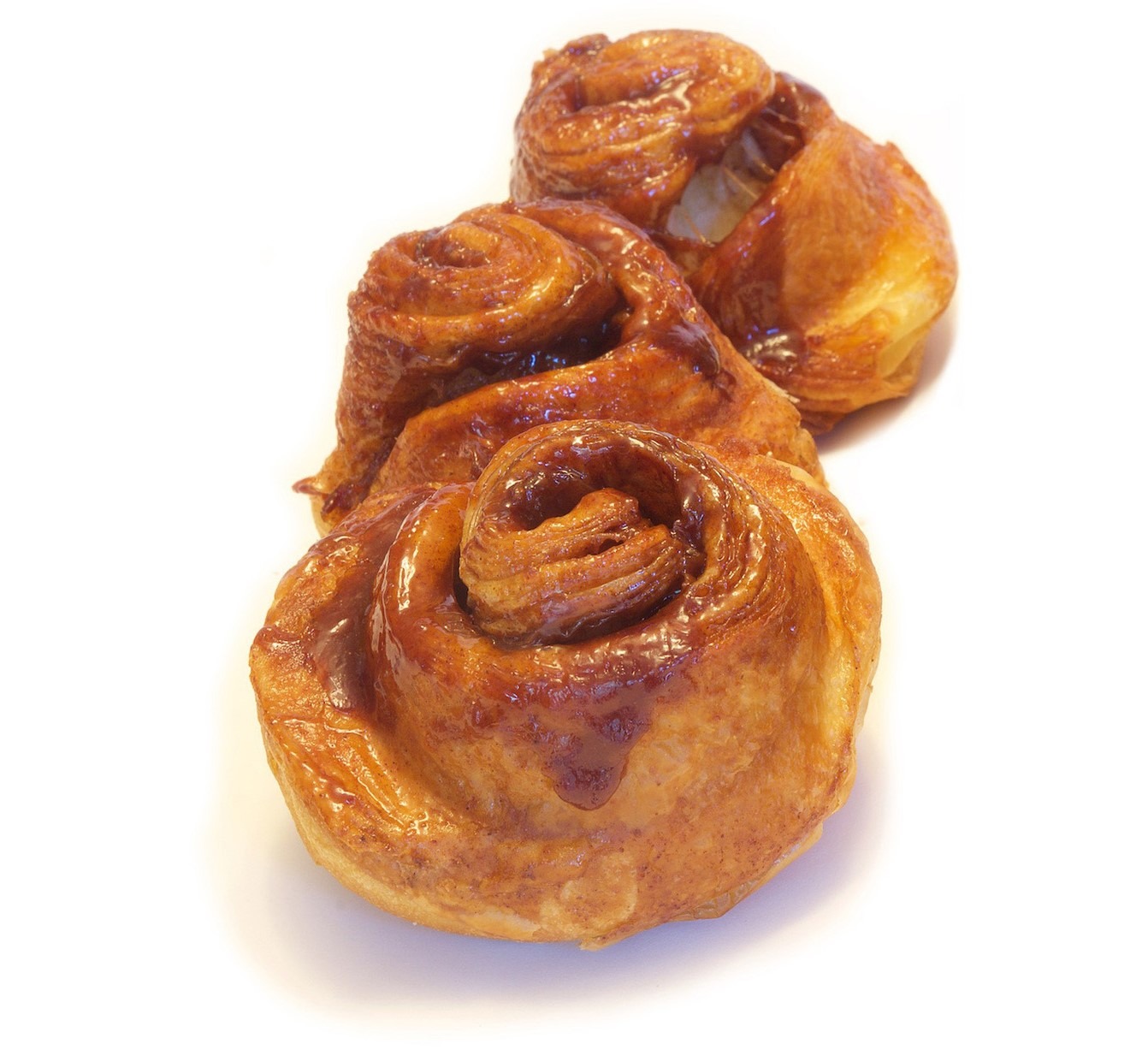 Almond croissant
If you like almonds – you will enjoy this sweet treat. If you love almonds – this sweet treat is heaven on earth! Croissants are filled with almond cream – a mixture of almond flour, butter, sugar and eggs. It's also topped with almond cream, sprinkled with sliced almonds as well as icing sugar, and then baked. Oh my goodness! (Saturdays at Wolseley; Fridays, Saturdays and Sundays at The Forks Market)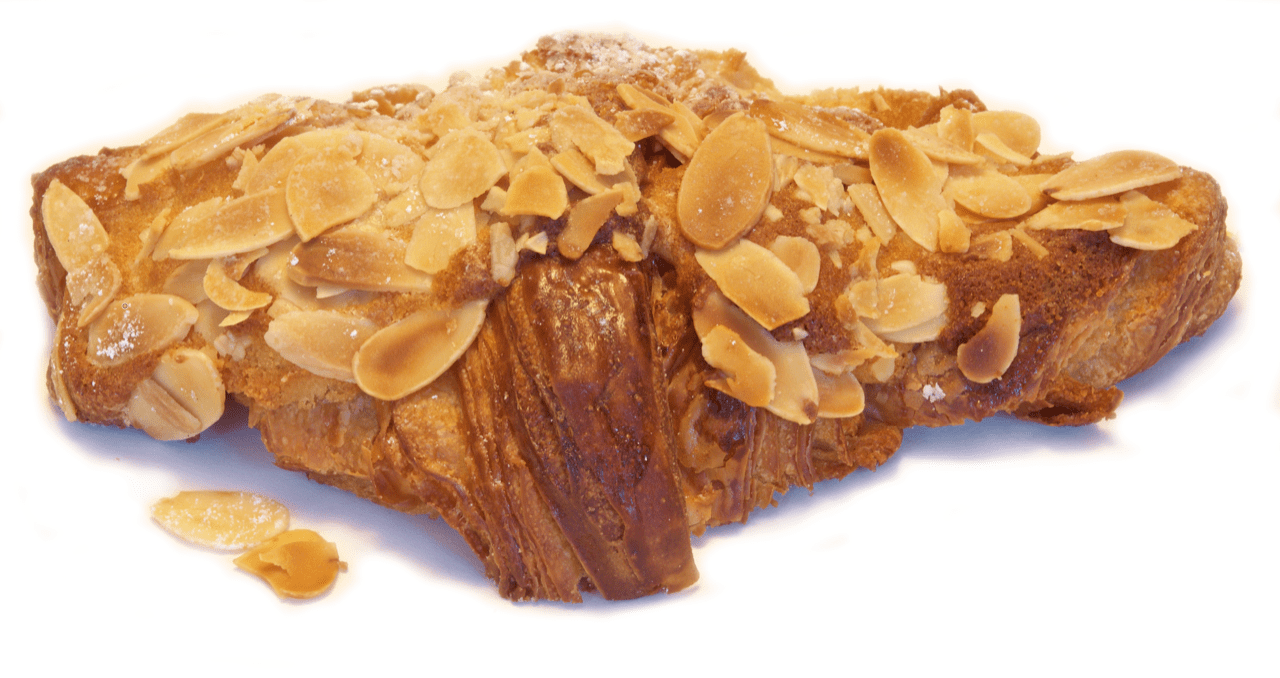 Savoury breakfast square
Bread cubes combined with eggs, onions, mushrooms, peppers, celery, zucchini, asparagus, garlic and milk are combined with two parts local cheddar cheese, and one part each of asiago and mozzarella cheeses. It's a delightful, flavourful square – gorgeous when heated up and shared with family and friends on a weekend morning. Also most excellent when eaten straight out of the fridge!
(Saturdays, Sundays & Mondays at The Forks Market)